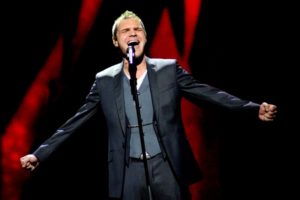 There were no significant changes to Estonia's second rehearsal today at the Crystal Hall arena.  Ott again performed Kuula very confidently on stage.
Ott started the first rehearsal wearing a dark grey jacket and white t-shirt, waistcoast and trousers.  For the remainder of the run throughs he removed the jacket.
On stage with Ott is a female backing singer.  She was wearing a white top and jeans today.
There is no removement on stage from Ott or the backing vocalist.  The lighting begins very dark and eventually brightens with images of autumn type leaves.
Another confident performance by Ott and the watching journalists also enjoyed this fine act.