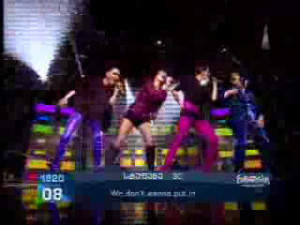 In the first place Georgia didn't want to participate at the 2009 Eurovision Song Contest. EBU managed to persuade them, but when Georgia yesterday was told to either change the lyrics of their chosen entry or pick another song it apparently become too much for the country that now states that they will simply withdraw anyway.    
Yesterday EBU's reference group decided that the Georgian entry doesn't live up to the rules for the Eurovision Song Contest.Georgia was given two options; either change the lyrics so that they can be approved or pick another song before the official deadline on the 16th of March. Today it is being reported that Georgia went for a third solution: They will simply not participate in Moscow!
It is not the first time Georgia has withdrawn from this Contest as it happen already in the early autumn due to its conflict with Russia. When Russian soldiers entered Georgian territory it can became too much for the country that went out in the media saying that a participation at the 2009 Eurovision Song Contest was out of the question if it was to be hosted in Russia. To EBU they officially said that they didn't believe any Georgian participant would be safe in Russia. The European Broadcasting Union however managed to convince them that there wouldn't be any problems and as they generally want to make it clear that politics shouldn't have anything to do with the Eurovision events it became essential for them to have Georgia participating. 
As Georgia after negotiating with EBU decided to take part after all everything was fine until the Georgian national final which was won by Stephane & 3G singing the song We Don't Wanna Put In. The song was immediately seen as playing a bit too much on the cold Georgian feelings towards the big neighbour country and the Russian prime minister Vladimir Putin in particular. It was expected that EBU's reference group would have to step in, as they then did yesterday. The Gerogian broadcaster have today reacted towards this decision by stating that "We have decided not to change the lyrics or choose a different song. We will not go to Moscow and will not participate in Eurovision 2009". AFP also reports that Nadia Uznadze, producer from the national broadcaster says that this decision has been made as they don't agree with yesterday's decision from EBU's reference group: "It is still not clear to us why EBU took this decision".
As it has been mentioned that several of the songs chosen for the national final in Georgia wouldn't be able to live up to EBU's rules there is now being speculated in whether or not this was a deliberate decision from the Georgian broadcaster in order to get out of the Contest they didn't want to participate at in the first place. 
The rule that EBU states the Georgian entry break is #4.9: The lyrics and/or performance of the songs shall not bring the Shows or the Eurovision Song Contest as such into disrepute. No lyrics,speeches, gestures of a political or similar nature shall be permitted during the Eurovision Song Contest. No swearing or other unacceptable language shall be allowed in the lyrics or in the performances of the songs. No commercial messages of any kind shall be allowed. A breach of this rule may result in disqualification.
Georgia hasn't yet informed EBU about this decision and is as such officially still considered to be participating in Moscow.   
The lyrics of the Georgian entry:
Some people tell you the stories
To drag you down to the knees
But let me tell you: don't worry
No worries, no worries
Another glass of my moonshine
Will kick the hell out of me
But let me focus on good stuff
Some good stuff, just good stuff
We don't wanna put in the negative move
It's killin' the groove
I'm a-tryin' to shoot in some disco tonight
Boogie with you
So many people are whining
They're freakin' all day long
The bitchin' will last forever
And ever, and ever
You better change your perspective
Your life won't be outta luck
A groovy sun will be rising
Be rising, it's rising
We don't wanna put in the negative move
It's killin' the groove
I'm a-tryin' to shoot in some disco tonight
Boogie with you
Boogie with you, boogie with you
Boogie with you, boogie with you
Boogie with you
I like all Europe countries and I love Europa
Say: give me sexy ah (Give me sexy ah)
Say: give me sexy ah (Give me sexy ah)
Put in
Don't wanna put in
We don't wanna put in
We don't wanna put in
We don't wanna put in the negative move
It's killin' the groove
I'm a-tryin' to shoot in some disco tonight
Boogie with you
We don't wanna put in the negative move
It's killin' the groove
I'm a-tryin' to shoot in some disco tonight
Boogie with you
We don't wanna put in