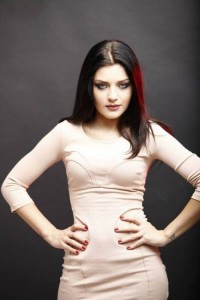 This afternoon Georgia held a short national final with just five participants in order to pick the one that will represent the country at the 2015 Eurovision Song Contest held in Vienna in May. Nina Sublatti won the honour with the song Warrior.
The five songs in today's Georgian national final was known beforehand, in fact parts of the voting had been going on since 31st of December. It was a short procedure to select the entry that will represent Georgia in this year's Eurovision Song Contest. 
The songs: 
1. Eter Berashvili – If Someone (music by Rafael Artesero)
We start out with this classic power ballad. It is one of those songs whose strength is that only few people will directly dislike it. It suits Eter's voice quite well without going to the higher notes, which might strecth it. It is well structured and certainly a good start.
2. Edvard Maison – We Are Freeeee (music and lyrics by Edvard Maison)
Here we have a pop song, which starts out making one think that they will give Cyprus and Grecce a run for their money in this type of music, but about half way through the song you really wonder what this actually is. Unfortunately for Edward many will think this is a mess.
3. Niutone – Run Away (music by Niutone, lyrics by Mariam Chikhradze)
The only band among these five participants are Niutone, although it might as well have been a solo performance as there isn't much play between lead singer Nutsa Abashidze and the others. It is very much her show, at least in this video performance available. From time to time her voice reminds a bit of Lena Meyer-Landrut who won the 2010 Eurovision Song Contest with the song Satellite.
4. Nina Sublatti – Warrior (music and lyrics by Nina Sublatti)
Nest is this pop song with plenty of drums in the background track. About half way through electronic sounds are being added which actually wasn't needed. It is an interesting song, and Nina performs it well. This could become popular among the international fans should it represent Georgia this year. 
5. Misha Sulukhia – One And Only (music and lyrics by Teo Zeinklishvili) 
We end with a male pop ballad where Misha from time to time attempts the higher notes. It is difficult to hear if he actually manages as the background music is a bit too loud. Nevertheless it appears well structured and is a fine ending to this national final.  
The show: 
40 minutes. That's how short today's Georgian national final was. It started at 14:00 CET,  17:00 local time. The show was hosted in the capital of Georgia, Tbilisi, as a part of the programme "Communicator", which today was dedicated to the national selection. 
The songs were not actually performed in the show where only very small clips was shown. The five participants were then called forward one by one for a short interview by the hosts who often looked down at her tablet. Maybe it was her who controlled the small clips shown or maybe she just needed to check who next act was?
As soon as we had a winner the full length video of the song was shown. 
The voting: 
The winner was chosen in a 50/50 combination between public voting and jury voting. The public voting had started already on the 31st of December 2014 where as the jury members wasn't publicly known until today's show. The points from the jury members, who were international, were given in pre-recorded video messages where a Georgian voice over translated their English to the local viewers. The votes from the public was automatically added and suddenly Nina Sublatti was awarded as the winner.
Georgia at the Eurovision Song Contest:
It was in 2007 Georgia had it's debut at the Eurovision Song Contest where Sopho ended mid in the final field, 12th out of 24, with the song Visionary Dream. Best placing so far for the country is twice coming in as 9th, and twice did they fail to qualify for the final, among those last year where The Shin and Mariko sang Three Minutes to Earth.
Georgia had to pull out of the Eurovision Song Contest in 2009 as EBU, demanded a change of lyrics in order for them not to offend the Russian leader Vladimir Putin. This Georgia wouldn't do and as such had to withdraw its entry.