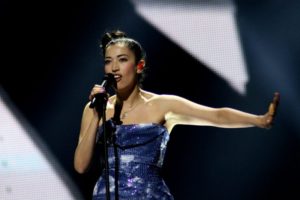 Nina Zilli gave an outstanding performance with her retro type show at today's second rehearsal for Italy.  She appeared very confident and the watching journalists appreciated her very much.
Nina was wearing a short purple dress and looked beautiful on stage.  This may be the dress she wears at the final.  In my opinion it certainly suited her more than the white dress she wore at the first rehearsal.
She was joined on stage by three backing vocalists (one male and two female).
The background had black and white flashing images.  This fitted in with the retro sound of the song.
Nina's vocals were faultless and she gave an excellent performance of this happy and feelgood song.