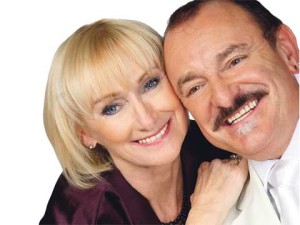 Former Belgian entrants Nicole & Hugo who were forever immortalized in 1973 with Baby Baby and their purple flaired suits have always enjoyed something of a cult following. A camera team have followed them "up close and personal" on their annual journey to their holiday favourite St. Tropez.
A crew from the series De Nieuwe Garde (The New Guard) tagged along with the couple, now 64 and 63, on their trip to the French Riviera. The programme has a foody angle, filming the couple as they were guests at the renowned Maison Bru establishment, owned and run by Michelin award winner Wout Bru. "They (VTM) asked us if they could just film us and we had no objection. Just to set the record straight, we were merely regular guests at that hotel, we footed the bill ourselves!"
When asked about their culinary experiences while staying with Bru, the couple were quick to comment: "It was beautiful. The rooms were fantastic, as was the pool. We also enjoyed Wout Bru's cooking. They may have taken a Michelin star from him, but that's unfair. Bru's cuisine is of an extremely high level, with prices accordingly, but you're not exactly served fast food here. You treated to a pretty unique experience." The couple also got to follow behind the scenes at the establishment and see a trainee chef at work. Nicole & Hugo were most keen to emphasize that they are in no way food snobs, saying that sometimes they just preferred standard steak and chips, but nevertheless shared with viewers their top restaurant tips for fine dining.
Over the next few weeks, the duo will have their hands full while performing in the musical K3 in the Netherlands, but are already looking forward to taking things easier in September: "In September we will have one weeks vacation on the Greek island of Mykonos, a favourite gay holiday destination. We always go down well with gay men, but we seldom perform nowadays otherwise we'd have yet another camera crew stalking us!"