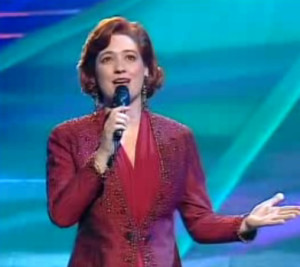 Niamh Kavanagh was on stage in the Telenor Arena this afternoon to rehearse It's for you. The rehearsal was well-attended and Niamh certainly didn't let anyone down.
Before I say anything else I'll remind everyone that I'm Irish and this may be a little biased.
Niamh only pushed herself vocally for the first two run-throughs and then relaxed her voice and focused on the camera work and the lights.
The stage starts off with only a few green lights twinkling and more and more then come on. The stage is quite dark with a spotlight on Niamh back whihc highlights her red hair. The colour of the lights then turns orange for a lot of the song. At the crescendo they are a sort of white/yellow.
Niamh stands on a small platform that will most likely be covered by a long flowing purple dress. She is accompanied by four backing singers, two female and two male. One of the backing singers does the flute part.
The overall look of this is good, but I'm sure there are some small changes planned. The camerawork will need minor adjustments, but all looks good for Ireland at the moment.