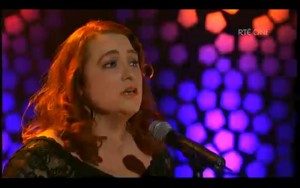 Ireland hasn't reached the final of the Eurovision Song Contest the past two years. Tonight they decided that it will be up to Niamh Kavanagh to try to do the double after winning the contest for Ireland back in 1993. This time her song is called It's For You and is written by the team who also wrote last year's Irish entry.
The 2010 Irish final was once again held as a special edition of the Late Late Show, but this time with a new host; Ryan Tubridy. 5 songs competed for the honour of representing the country with the remarkable record of winning the Eurovision Song Contest a total of 7 times! Several well known names were to be found in the line-up including two former Eurovision winners; one as singer, one as composer and a member of the international successful boyband Boyzone. Not to mention the fact that four out of the five songs had songwriters that have previously participated at the Eurovision Song Contest. All facts that were promising a national final of a very high level.
The participants:
Leanne Moore – Does Heaven Need Much More? (composed by Tommy Moran & John Waters)
Leanne is dressed in a short light pink skirt and a white top. With her long blonde hair she comes to remind a bit of Barbie. She has four backing singers with her all dressed similar to Leanne, but with black skirts. Near the end of the song the backing singers joins her on a line making it look like a girl band performance.
Lee Bradshaw – Rivers Of Silence (composed by Ralph Siegel, John O'Flynn & José Santana)
Lee is wearing jeans, a white t-shirt and a black open jacket. He has a band behind consisting of a drummer, two guitar players and one female backing singer. The guitar players also function as backing singers.
Mikey Graham – Baby Nothing's Wrong (composed by Michael Graham, Scott Newman & Yann O'Brien)
Mikey is dressed in a black suit, white shirt and a black tie. On stage with him he has a piano player, two violin players, a saxophone player and one on acoustic guitar.
Monika Ivkic – Fashion Queen (composed by Marc Paelinck & Mathias Strasser)
Monika is dressed in a tourquise short dress. She has three female backing singers dressed alike in a white and silver swing dresses and two make dancers wearing black jackets and jeans.
Niamh Kavanagh – It's For You (composed by Niall Mooney, Mårten Eriksson, Jonas Gladnikoff & Lina Eriksson)
Niamh is wearing a red and black dress that is short on the front with a long tail on the back. She has three backing singers with her; one male and two female. One of the female backing singers is also playing a flute. 
The show:
The show opened by a performance of All Kinds Of Everything by Dana. Should anyone have forgotten this Eurovision classic then it was Ireland's first victory and we are back in 1970. In an interview with the host afterwards Dana said that she really enjoys singing this song as it is very comfortable to her. She thinks that the song won as it wasn't so manufactured as many of the other songs were at that time. She also told the story of how people started singing All Kinds Of Everything when she had her first working day in the European Union parlament.
Johnny Logan joins Dana'a talk with the host and they talk about how Dana knew Johnny as a child as she was friends with his father. Johnny Logan won the Eurovision Song Contest three times. In 1980 and 1987 as singer and in 1992 as a songwriter for Linda Martin. A clip is then being shown from his first victory, What's Another Year. He tells about how he is still extremely busy touring in particular Scandinavia. He also gives a little message about how important it is with televoting in these national finals when he explains that it is important that the people have a say in which song will be representing them as a population.
Clips from the past years winners My Number One, Hard Rock Halllujah, Molitva, Believe and Fairytale are shown. This is what tonight's winner will have to try to live up to. After these clips it was time for the five songs to be performed.
After hearing all five songs, seeing a recap it was time to award everyone in the audience with a hotel stay.
Michael Ball joins the studio for a talk about the Eurovision Song Contest. He represented United Kingdom in 1992 finishing second with the song One Step Out Of Time. Him and the host agree on that the voting at the Contest is just one big block thing!
After talking to Michael Ball we see clips from various interval acts at the Eurovision Song Contest over the years – of course including the Irish Riverdance from 1994.
Shortly before revealing the votes it was time for Johnny Logan to perform his first Eurovision winner; What's Another Year from 1980. 
The voting: The Irish representative for the 2010 Eurovision Song Contest were picked by 50% televoting and 50% jury. There were six juries giving points to all the song. Should their be a tie the televoting counts most. Voting would not open before all five songs had been performed.
All the guest stars agreed on that Niahm would be the right choice for Oslo. The six juries agreed with that leaving it quite sure that she would win, but we of course still had to wait for the televoting. With maximum points here as well song nr. 5 became quite an overwhelming winner. 
Niamh Kavanagh was considered the big favourite beforehand and despite being a bit out of tune a couple of times her beautiful voice caried her to yet another victory in Ireland. Now the question is if she can do the same at the international contest in May in Oslo.
Below you can see a screenshot of the final result and you can of course also see Niahm's winning performance from tonight. EuroVisionary was present and you can look forward to reading a lot more about this selection in Ireland a little bit later.