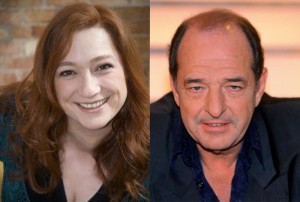 RTÉ have announced the five finalists for Eurosong 2010 and among them are 1993 Eurovision Song Contest winner, Niamh Kavanagh and 1982 winning songwriter Ralph Siegel. The final will take place on March 5 as part of the Late Late Show on RTÉ 1.
There was much speculation about the list of finalists before today with Niamh Kavanagh, Ralph Siegel, Ronan Keating, Mikey Graham and X-Factor twins John and Edward all getting a mention. Some of the speculation turned out to be true, these are the finalists for Eurosong 2010:
Leanne Moore – Does Heaven Need Much More? (Tommy Moran & John Waters)
Monice (Monika Ivkic) – Fashion Queen (Marc Paelinck & Mathias Strasser)
Lee Bradshaw – River Of Silence (Ralph Siegel, Bernd Meinunger & José Santana)
Mikey Graham – Baby Nothing Is Wrong (Michael Graham, Scott Newman & Yann O'Brien)
Niamh Kavanagh – It's For You (Niall Mooney, Jonas Glad

nikoff, Lina Eriksson & Mårten Eriksson

)
All but one of the songs are written by former Eurovision Song Contest entrants.
Lee Bradshaw took part in the 2009 Irish national final with the song So what and finished fourth. He has appeared on national television in Ireland for the past few years in the RTÉ cooking programme The Restaurant. He has also been a model, a restaurateur and a member of a boyband. His song is written by Ralph Siegel the prolific German songwriter with nineteen Eurovision Song Contest entries to his name for no less than 4 countries. Of course he won the contest in 1982 with Ein bißchen Frieden.
Niamh Kavanagh will be the a well-known name to fans of the contest. She gave Ireland the second victory its hatrick of wins from 1992 to 1994. She hinted on the Late Late Show last year that she would return to the contest if she found the right song. Two of the four-man songwriting team are Niall Mooney and Jonas Gladnikoff who were part of the songwriting team behind Ireland's 2009 entry, Et cetera. They return to Eurosong this year with the help of Swedish husband and wife team Mårten and Lina Eriksson.
Leanne Moore won the last edition of You're a Star, the former Irish pre selection show, in 2008. She is believed to be competing with a song by John Waters who wrote the 2007 Irish Eurovision Song Contest entry They can't stop the spring.
Monika Ivkic is best known for coming fourth in the fifth season of Deutschland sucht den Superstar, the German version of the popular Idol franchise. She was born in Bosnia but moved to Austria with her parents where she still lives. Her song was written by the same team behind Chiara's 2009 song for Malta, What if we.
Mikey Graham will be familiar to people around the globe as a former member of the Irish boyband Boyzone. He is currently taking part in the ITV reality series Dancing on Ice. His last appearance on Irish TV screens came in 2008 when he tried his hand at acting in the RTÉ series Hollywood Trials. He'll also be remembered by Eurovision fans for singing during the interval of the 1997 Eurovision Song Contest.
The voting system used in Eurosong 2010 will be the same as in 2009. The outcome will be decided by public televote (50%) and 4 regional juries (50%). This year's final will be hosted by the new host of the Late Late Show, Ryan Tubridy.