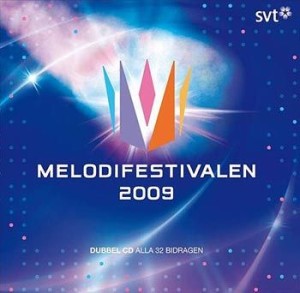 Tomorrow the Swedish televoters will decide the first two finalists in Stockholm. The new format that has been introduced for the 2009 semifinals promises even more excitement than in the past years. Eurovisionary gives you an insight into these new rule changes.
As in the past years, 8 songs are performed and televoters can vote until a given moment when the the 5 songs that has received the largest number of televotes will be announced. The voting will then continue which means that the 5 songs are keeping the votes they already received and a recap of the 5 songs is shown for the viewers while they continue to vote.
As the voting of first round is declared closed, the 4 of the 5 songs that received most votes will face each other in two separate duels where the viewers votes once again. In these head to head matches, the 1st placed song will meet the song placed 4th, while the 2nd and 3rd placed songs face each other in the 2nd duel. The order of the duels are decided by SVT.
The two winners gets a place in the final of Melodifestivalen. The two songs failing to qualify goes to the second chance round.
These head to head matches are known from the second chance round, but has not yet been used for the semi-finals.This year we also saw them used in the Dansk Melodi Grand Prix where four songs were battling it out like that after having knocked out six other competitors in the first round.
SVT sees the changes as a way to further develop the concept of Melodifestivalen.
The album with all the 32 competing songs in this year's Melodifestivalen is available for pre-ordering now.