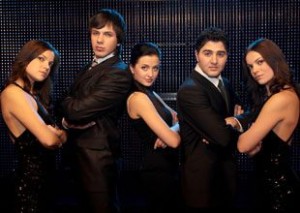 Belarusian group, Three Plus Two, have announced the news that they have changed the song they will sing in Oslo.
They were selected by an internal jury to sing the song, Far Away. Now, with only a couple of days to go before the submission deadline, they have decided to perform a different song, Butterflies. Far Away is an up tempo song, but Butterflies is a ballad, adding to the considerable number of ballads in the 2010 contest.
The news comes just two days after Ukraine announced a change to its entry.
Russian producer, Maxim Fadeev has written the music for the song, the lyrics have been written by Malka Chaplin.
Belarus will in the first semi-final in Oslo on May.