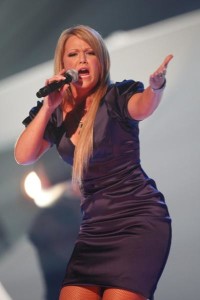 Mainly debutants were among the names that was presented by SVT today but there was also two very well known names to the ESC-fans. Maria Haukaas Storeng and Sahlene are competing for a come-back to the Eurovision Song Contest – together.   
As these six names was made public there are now only two more names
before the starting field is complete. When these two names are to
become public is unknown at the moment.
Anna Sahlene & Maria Haukaas – Killing Me Tenderly
Anna Sahlene represented Estonia at Eurovision 2002 (and came 3rd). She also took part in Melodifestivalen twice – 2003 & 2006 (didn't get through to the final) and has been backing singer for Charlotte Perrelli at ESC 1999.
Maria represented Norway at Eurovision 2008 were she came in 5th place. She had her breakthrough in the Norweigan talentshow Idol 2004.
The song is described as "a cross between Tina Turner & ABBA, with sound and inspiration from Duffy and with Agent 007 inmind".
Susanne Alfvengren – Du är älskad där du går
Even
though Susanne Alfvengren is a debutant in Melodifestivalen she is a
well known Swedish artist. Her big breakthrough was in 1984 with the
song "Magneter". Since then she has released seven albums and had one
minor role in the Swedish movie "PS sista sommaren" (1988).
The song is described as a "calm, well arranged melodic ballad that grows, with lyrics that gives comfort".
Cookies 'n' Beans – What If
Cookies n' Beans is a Swedish country trio, it consist three female
singers/guitarists/harmonica players, Charlotte Centervall, Linda Ström
and Frida Öhrn.
They have been playing together since 2003.
The song id described as "a expressive and dynamic song that grabs and leaves behind a taste for more".
Scotts – Jag tror på oss
Scotts is a dance band ("dandband" in swedish) that right now is making success in the popular swedish musicshow "Dandsbandskampen", a kind of competition where two out of five bands qualify for the next round. There is a new round every week and so far Scotts has qualified from every round.
The song is described as a "rocky, energetic song about love with some complications".
Thorleifs – Sweet Kissin' in the Moonlight
Thorleif Torstensson and a few frinds had an idea of playing music together in a band in the early 1960's. The group Thorleifs was born. But it wasn't until 1970 they released their first single. Their first album "Kommer hem till dig" (Coming home to you) was released in 1973. Thorleifs is a very famous traditional dance band in Sweden and has been touring all over Sweden for many years now. They have also been on top of the Swedish charts on numerous occations over the years. Even though they have been in the music industry for many years this is the first time they are participating in Melodifestivalen.
The song is described as a "swedish shuffle with a tablespoon of schlager and one milliliter ABBA, served in a danceable way".
Nina Söderquist – Tick Tock
Nina is another debutant in Melodifestivalen. In 2008 she participated in a Swedish realityshow called "West end star" and won. First price was to play the role Lady of the Lake in the West End show Spamalot. In the summer of 2008 she appeared in the Swedish tv show Allsång på Skansen.
The song is described as "uptempo rock with a lot of energy. A fast, energetic rockdiva-stomper, with a touch of flamenco".