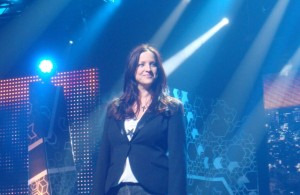 Over the last couple of years, Swedish broadcaster SVT has had different commentators for the broadcasts of the Eurovision Song Contest. This year, SVT has decided to once again try something new, and has chosen the artist Shirley Clamp and the editor Edward af Sillén.
"We have chosen a new and exciting combination as commentators for this years Eurovison Song Contest. I'm sure that these are two people who will both have a sense of humour and spontaneity, but also have a lot of knowledge of the history of the competition" Christer Björkman, Head of Delegation says.
Edward af Sillén was the co-writer, who together with Petra Mede, wrote her scripts during Melodifestivalen this year. He can also call himself editor and expert on the Eurovision Song Contest. During the Pride festival in Stockholm, Edward was the one arranging the evening with the "schlagertheme".
Shirley Clamp is a well known artist in Sweden and among fans all over Europe. She had her big breakthrough in Melodifestivalen in 2004 with the song Min kärlek, and according to a press release regarding the Swedish commentators, she says that she has been watching the Eurovision Song Contest ever since she was a little child. She also states that she is honoured to get this responsibility.