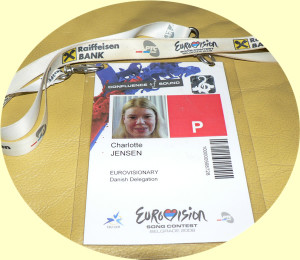 The system through which you apply for fan or press accreditation is now accepting applications. This year many will need a visa to enter Russia and it has therefore been build into the system. Other new things are that PF accreditation level has been dropped and that it is no longer possible to apply though other countries.
EBU has taken over the accreditation system used in relation to the Eurovision Song Contest and as such the procedure now goes via the official site's MyEurovision. Both fans and press apply through that and the HoD's (Head of Delegation) use it to either approve or deny applications.
A couple of new things have been added compared to previous years.  One of the major differences is the fact that it is no longer possible to apply through countries you don't have a connection to. Once you have entered your passport details the system will only allow you to apply through the country where this is issued or the country where the company you cover the event for is registered. If you are from a non participating country there is also the possibility of applying as such. In the past years it has been known that fans from countries with a big fan scare went through smaller countries in order to get accreditation. That is no longer possible.
This year people can apply for two categories of accreditation level's; P and F. The very confusing PF have been dropped. It is easy to understand that P is for the press and F for the fans, but a lot harder to explain what a Press Fan was.
P accreditation: This level is for professional medias and Eurovision.tv (The official site) describes this as: "The EBU and participating EBU Member broadcasters only provide accreditation to representatives of media which are available to the public in sales outlets, through publically accessible radio frequencies, television channels or internet sites. The media outlet should be registered at the Chamber of Commerce, or should be legally established otherwise".
F accreditation: This is described as: "The EBU welcomes a select group of dedicated fans of the participating artists and the Eurovision Song Contest. Therefore, each participating delegation can give out a small number of fan accreditations. In total, 430 fan accreditations can be assigned".
It is recommended to apply as soon as possible due to most people needing a visa to get into Russia. In order to make this whole process a lot smoother you will automatically via email receive a visa form within ten days after your accreditation application was approved. You bring this application form together with your passport to the embassy who then issues you with a visa valid from 1st of May 2009 to 30th of May 2009. It is therefore not possible to arrive to Russia before the 1st of May unless you sort out the visa on your own. As it can easily take 7-10 days for some embassies to provide you with the required visa applying soon is recommended in order to first get the form, go the embassy and maybe wait another 10 days.
For the fans it is even more important to apply rather soon due to the limited amount of F accreditations each delegation has. Even though the official deadline to apply is the 20th of April the principle is that whoever applies first gets approved first and once your country's delegation has used all of its fan accreditations you can no longer be accepted. As you don't have the option of trying through another country this means that you don't have access to see the rehearsal and attend the press conferences.
So what is the major difference between P and F in terms of access rights? Press and fans both have access to watch the ordinary rehearsals in the venue and both also get a ticket for at least one of the dress rehearsals of each event. They also have the same access to Euroclub, but fans only gets access to opening and after parties if the press doesn't use the full capacity. Where the press have access to all press conferences fans only have access to the first press conference for each country. There will be special working areas for the press where internet facilities are available and they also have access to a special interview area. Fans don't have access to any of this, but there will be a special fan area for them to meet and hang out.
EuroVisionary would like to wish everyone a good Eurovision Song Contest whether you will be attending the event in Moscow or is staying at home.
Links