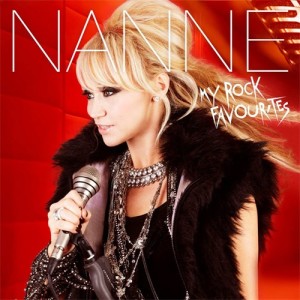 Swedish top singer Nanne Grönvall, with a long list of national selections behind her and also one Eurovision Song Contest participation, has been working on a tribute album titled My Rock Favourites. The album, that contains 16 songs, was released today making it a likely Christmas present for many. 

Nanne, who is actually born Marianne Elisabeth Nordqvist, has released 5 soloalbums in the period from 1998 to 2010. Today the next in line My Rock Favourites hit the stores.
The album contains the following songs:
1. Shadow On The Wall
2. Nag
3. Heaven's On Fire
4. Should I Stay Or Should I Go
5. Will You Be There
6. Thunderstruck
7. All Night Long
8. I Wanna Be Sedated
9. Crazy Horses
10. Everyday
11. Black Cat
12. Bad To The Bone
13. I Don't Wanna Talk About It
14. I Can't Dance
15. If The Kids Are United
16. Biggest And The Best 
Nanne started her career in the 1980's group Sound Of Music with whom she participated in the Swedish national selection Melodifestivalen twice; in 1986 with Eldorado and the following yeat with Alexandra. In 1996 she made it to the Eurovision Song Contest with the trio One More Time. Their song Den Vilda finished third. In 1998 she was back as a solo singer and accieved massive sucess with the song that has become somewhat of a classic by now; Avundsjuk.
In 2001 she took the trip abroad as she participated in the United Kingdom selection "A Song For Europe" with the song Men, which however came last. Two years later she tried again in home country Sweden, but failed to qualify for the final with Evig Kärlek. In 2005 her entry Håll Om Mig won the public televote, but did not score well among the juries sending Martin Stenmark to the Eurovision Song Contest instead. In 2007 she again suffered a downfall as her song Jag Måste Kyssa Dig lost in the second chance round not making it to the final of Melodifestivalen.