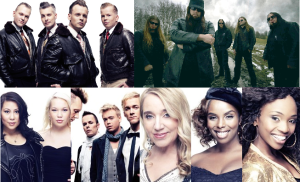 NRK have released 30 second clips of the seven songs that will be performed in the 3rd heat of Melodi Grand Prix on Saturday. Not to be outdone, Icelandic broadcaster RÚV have also published the next 5 candidates for Söngvakeppni Sjónvarpsins this Saturday.
Heat three of Norwegian Melodi Grand Prix will take place in Skien on Saturday the 29th. January. Seven new artists will slug it out for the two places in the final on the 12th of February as well as the two spots in the Last Chance heat to take place in Sarpbsborg on the 5th of February. We'll get to see these perform on the 29th:
Song number 1: Susperia – Nothing Remains (Pål Mathiesen/Terje Andersen/Christian Hagen/Ian Kenneth Åkesson/Håkon Didriksen/Øyvind Mustaparta)
Song number 2: Noora Noor – Gone With The Wind (Simone Larsen/Moh Denebi/Jennifer Brown/Bjørn Djupström)
Song number 3: Girl Happy – S.O.S. (Tor Einar Krogtoft-Jensen/Christoffer Bergersen)
Song number 4: Grethe Svendsen – Like Dreamers Do (Simon Walker/Grethe Svensen/Tommy Berre)
Song number 5: The BlackSheeps – Dance Tonight (Agnete Johnsen/Emelie Nilsen)
Song number 6: Stella Mwangi – Haba Haba (Beyond51/Big City)
Song number 7: The Lucky Bullets – Fire Below (Knud Kleppe)
You can hear the first snippets here, full versions will be released this Wednesday.
RÚV have released 5 new songs for their 3rd heat also to be broadcast on Saturday the 29th January. Those participating are:
Song number 1: Buff – Sáluhjálp/Salvation (Pétur Örn Guðmundsson)
Song number 2: Georg Alexander – Morgunsól/Morning sun (Jóhannes Kára Kristinsson)
Song number 3: Sigurjón Brink – Aftur Heim/Home Again (Sigurjón Brink)
Song number 4: Jógvan – Ég Lofa/I Promise (Vignir Snær Vigfússon/Jógvan Hansen)
Song number 5: Magni – Ég Trúi á Betra Líf/ I Believe In a Better Life (Hallgrím Óskarsson)
Following the tragic death of Sigurjón "Sjonni" Brink, a decision was made by the artist's family that his song would still be performed in the 3rd heat by his friends, who are as yet unnamed. You can listen to the five new candidates here. The two winners from the 3rd heat will go on to take part in the final of Söngvakeppni Sjónvarpsins on the 12th of February.