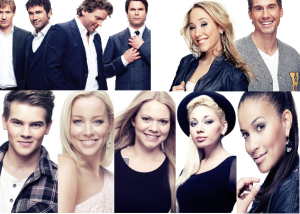 Both NRK and RÚV have now made available the entries in the forthcoming Melodi Grand Prix and Söngvakeppni Sjónvarpsins this coming Saturday. Whereas the full versions are available at RÚV, NRK has only published 30 second snippets of the upcoming contenders.
We will naturally provide a link to the full versions once they come online. What is noteworthy of the two heats this Saturday is that there are a number of familiar names to watch out for, most noteably Jóhanna, who we all remember sang the stunning Is It True? in Moscow 2009, giving Iceland a 2nd place. Kristján Gíslason (otherwise known as one half of Two Tricky, Iceland 2001) is also back for another bite at the cherry to see if he can improve on the 22nd place he achieved for Iceland.
The entries in Söngvakeppnin Sjónvarpsins are as follows:  

Song number 1: Kristján Gíslason & Íslenzka Sveitin – Þessi þrá/This Longing (Albert G. Jónsson)
Song number 2: Jóhanna Guðrún Jónsdóttir – Nótt/Night (María Björk Sverrisdóttir/Marcus Frenell/Beatrice Eriksson/Magnús Þór Sigmundsson)
Song number 3: Matthías Matthíasson & Erla Björg Káradóttir  – Eldgos/Eruption (Matthías Stefánsson/Kristján Hreinsson)
Song number 4: Bryndís Ásmundsdóttir – Segðu Mér/Tell me (Jakob Jóhannsson/Tómas Guðmundsson)
 
Song number 5: Rakel Mjöll Leifsdóttir – Beint á Ská/Straight Across (Tómas Hermannsson/Orri Harðarson/Rakel Mjöll Leifsdóttir)
Listen to the songs here

Not to be outdone by their Icelandic brothers in the west, Norway are also hot on the heels of their first heat, with seven fresh new contenders. Big names in their final to watch out for are Hanne Sørvaag, prolific songwriter and artist who has given us Shine (Georgia 2010), My Heart is Yours (Norway 2010), Disappear (Germany 2008) and Babel Fish, popular Norwegian group from the 90's.
The entries in the 2nd heat of Melodi Grand Prix will be as follows:
Song number 1: Pernille & Marius – I'll Be Yours (Ovi/Johanna Demker/Björn Djupström)

Song number 2: Babel Fish – Depend On Me (Tarjei Van Ravens/Halvor Holter)

Song number 3: Marika – Hungry For You (Gipsydance) (Marika Lejon)

Song number 4: Isabella – Sand (Isabella Leroy)

Song number 5: Endre – Oh oh (Puppy Love) (Samsaya Sharma/Jarl Aanestad)

Song number 6: Hanne Sørvaag – You're Like A Melody (Hanne Sørvaag)

Song number 7: Mimi Blix – Allergic (Merethe La Verdi/Ketil Schei)
Listen to their snippets here:
We will of course provide you with more background information on each artist over the next few days – be sure to watch this space!