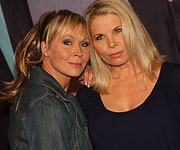 At a press conference held on tuesday, SVT presented six more names for next years swedish national selection Melodifestivalen. The theme this time was "girls with a MF experience". Along with these six names, two additional names could also be added to the list of MF-participants today.
Velvet – The Queen
Velvet, or Jenny Pettersson as her real name is, has competed in Melodifestivalen twice before. In 2006 with the song Mi amore and 2008 with the song Deja vú. Jenny got her education at Balettakademien in Stockholm in the early 90's and has been a back-up singer and dancer for several Swedish artists like Carola, Lena Ph and Martin Stenmark. For five years she was a part of the house choir of Melodifestivalen. In addition to this Jenny released the album Finally in 2006.
The song is described as a "cockey retrohit that you will either love or hate".
Agnes – Love Love Love
Agnes Carlsson had her breakthrough by winning the Tv-show swedish Idol 2005. Her album from same year topped the swedish charts and she recently released a new album where the first single "On and on" had success in the autumn charts.
The song is described as a "positive disco-pop song".
Sofia Berntsson – Alla
Sofia participated in Melodifestivalen 2007 with the song Hypnotized (did not get through the semi final). She has been in the music industry since she finished high school and has an interest in Greek music which comes from a trip to Greece after high school. When she came back home to Sweden she started to perform at Greek nightclubs and restaurants. In addition to her singing she has been working with several Swedish artists as a dancer.
The song is described as a "heavy pop/rock song with a cool riff".
Shirley Clamp – Med hjärtat fyllt av ljus (With the heart filled with light)
Shirley has a lot of experience of  Melodifestivalen and Eurovision
Song contest as she has has participated several times before both as a
solo artist, back up singer and even as a songwriter.. She made her debut as a singer in Melodifestivalen in 2003 with "Mr Memory" (did not get through the semi final). In 2004 she competed with the song "Min kärlek" (2nd place) and in 2005 with the song "Att älska dig" (4th). Besides her participation in Melodifestivalen Shirley has released four solo albums.
The song is described as a "melodious midtempo song that takes it's singer and is about standing in the middle of the life and realise it's true value".
Amy Diamond – It's My Life
16-year old Amy Diamond came 8th in Melodifestivalen 2008 with the song "Thank you". Amy had her breakthrough in Sweden 2005 with the song "What's in it for me" and has just released a christmas album.
The song is described as an "uptempo electrostomper – a dancesong with attitude".
Lili & Susie – Show Me Heaven
Lili & Susie took part in Melodifestivalen 1989 with the song "Okey okey" where they finished joint 5th. Lili & Susie is one of the most famous icons of the 80's in Sweden and had several hits from the mid-80's to the early 90's.
The song is said to be (suprise surprise) "80's nostalgic"
Another entrant that has been revealed today is Thorleifs. Thorleifs is a famous dance band (or "dansband" in swedish) which was formed already in the 60's
Rumours also has it that the third wildcard (out of four) will go to Marie Serneholt. Marie is a former member of the group A-Teens. She was released a solo artist in 2006 and is also the girlfriend of another well known MF-partipicant – Måns Zelmerlöw.