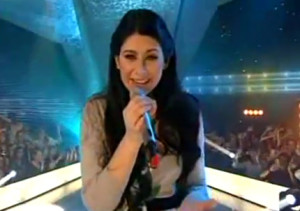 The Slovenian representative of this year's Eurovision Song Contest edition, Eva Boto, has decided to keep her song in the native language and more information about what we can expect to see in Baku has been revealed as well.
Eva Boto, the 2012 EMA winner, will have the honor of representing her homeland in the
2012 Eurovision Song Contest. Like the rest of the Balkan repubics, Slovenia has decided to not sing in English this
year. Slovenia's national TV broadcaster RTVSLO has announced that they will not change away from how it was presented in the national final.
In Baku she will perform with five backing vocalists, which then uses the max limit of 6 people on stage to the fullest.
The song that will represent the former
Yugoslavian republic is about a woman who does not lose her
hopes for being inside her lover's heart again. Verjamem's lyrics were
written by Igor Pirković while the entry is composed by Vladimir
Graić. He also wrote the first and only
Serbian victory in the Eurovision Song Contest, Molitva, which was performed by Marija
Šerifović in Helsinki 2007. 
Slovenia will compete in the second
semi-final on the 24th of May. Slovenia finished13th in Düsseldorf's final last year. Their best result is a seventh position back in 2001 with Nuša
Derenda performing Energy and 1995 with Darja Švajger performing
Prisluhni Mi. As a member of Yugoslavia the best results by an
artist from the actual Slovenia is also a seventh position. This time from 1966
with Berta Ambrož performing Brez Besed.
Below you can see the video of this year's Slovenian entry: