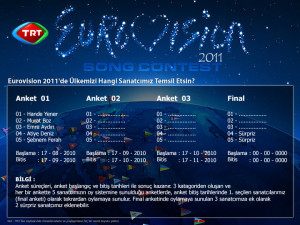 A couple of days ago, Turkish National Broadcaster TRT opened a poll which was entitled: 'Who should represent us (Turkey) at the Eurovision Song Contest?" on Facebook. More details about the poll have been revealed by the corporation.
As we announced the 3rd annual poll of TRT's selection for Eurovision Song Contest, TRT recently gave out more details about the selection with different polls than previous years. It's planned for Turkey's participant for Eurovision Song Contest 2011 will be chosen through the result of the poll.
As it is known, five names was competing for the 1st place in the poll, Murat Boz, Atiye Deniz, Şebnem Ferah, Emre Aydın and Hande Yener. According the corporation, this poll will be the first leg of the competition. There also will be two more legs with a public vote and another poll will introduce five different names from the first poll. Each winner will be placed in final poll which will be around December. TRT will also add two more surprise wildcard artists to the final poll and five names will compete in the final poll. 
There are only 4 days left before the closing of the first poll and the recent results are:
| | | |
| --- | --- | --- |
| 01 – Hande Yener   | |   13% (1,406 votes) |
| 02 – Murat Boz   | |   27% (2,963 votes) |
| 03 – Emre Aydın   | |   28% (3,136 votes) |
| 04 – Atiye Deniz   | |   19% (2,115 votes) |
| 05 – Şebnem Ferah   | |   14% (1,515 votes) |
The second leg of the eliminations will start with a new poll on 17th September and the closing time will be on 17th October 2010. The third leg will start on 17th October for the last lucky name and it will end on 17th November 2010. It's planned that the selection will end sometime in December.
You can also support your favourite by clicking
here to access TRT's Facebook page. EuroVisionary will introduce you at each step towards to Turkish Eurovision Journal.