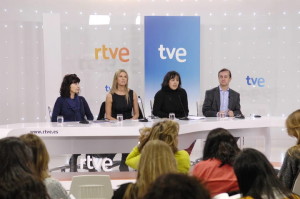 There will be four shows and the first of these will be next Friday, the28th of January at 22:15 CET on TVE-1. Established artists wishing to take part in the selection have until next Thursday to submit their application for Destino Eurovisión.
RTVE has announced at a press conference further details about the system that will be used to select the entry for Spain for the 2011 Eurovision Song Contest. The first two shows will be used to shortlist the 24 selected artists to ten. Twelve singers will take part in each gala and the expert committee will eliminate four of them. After that, the televote will choose three of them and the jury will choose two for the next stage. To sum it up, five of them will qualify from each show. In this preliminary phase, they will have to perform hits of the history of the Eurovision Song Contest (winning songs or past Spanish entries) in order to show their skills.
After these two shows, there will be a third show with ten singers who will be reduced to the three finalists chosen by both the jury and the televote who will win a ticket to the final show. In the fourth and grand finale show, each of the three artists will have to sing three songs from the selected ones and, the winning combination (singer and song), who will be chosen by jury and televote, will be the one to wave the Spanish flag in Düsseldorf.
The galas of Destino Eurovisión, to take place in Barcelona, will be presented once again by Anne Igartiburu, and Daniel Diges, the winner of last year's national selection and 2010 Spanish representative, who will be reporting from backstage. There will be a four-member expert jury that will have to vote singer and song. It will faeture singer and songwriter Albert Hammond, Eurovision Song Contest expert Reyes del Amor, popular television personality Boris Izaguirre and the singer and songwriter Merche.
Also, RTVE offer the possibility to join the final phase to any established artist. They would automatically qualify for the national final but they will not be able to introduce a new song, they will have to perform one among the selected ones. The applications deadline has been set on Thursday, 27th of January. About the selection of songs, RTVE already announced the twenty songs and nowadays, an expert committee is trying to reduce this number to nine that will make it to the final. In addition, RTVE has confirmed that the songs should be in Spanish, so the ones that were written in other languages must be translated into Spanish.