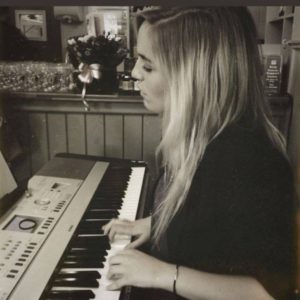 This evening five acts competed in the Irish national final, Eurosong, to win a ticket to the Austrian capital of Vienna with the following responsability of representing Ireland at the Eurovision Song Contest. After an entertaining show, Molly Sterling took home the trophy.
Previously this month five songs  aired on Irish radio got a lot of attention. One of these songs were to represent the country at the 2015 Eurovision Song Contest – and tonight it was decided which one of them it would be.  
The songs:
1. Alex Saint and the MJs – She's So Fine (Composed by Tony Adams-Rosa)
Zambian born Alex delivers a rap song with a pop chorus. We have before seen Ireland go for unusual Eurovision songs, but rap tends to not perform well at the international contest. Alex has four female backing singers and a female dancer with him on stage. He is dressed in with shirt, black trousers and a lose tie. The songwriter mentioned that we haven't seen the combination of pop and rap before in Eurovision… we chose to forget that we have heard the UK entry from 2006, Teenage Life by Daz Sampson. That didn't do that well, and this probably won't either.

2. Kat Mohan – Anybody Got A Shoulder? (Composed by Charlie McGettigan)
Next up is Kat Mohan who is already a bit familar to the TV viewers as she previously took part in RTE's The All Ireland Talent Show with the band Lilac Blues, an experience that might come in handy as she is under a lot of pressure singing a song written by former Eurovision winner Charlie McGettigan. This is a great piano and violin ballad, and pretty much what many will expect Ireland to go for. On stage Kat is backed up by musicians playing piano, guitar, violin and double bas. She herself is dressed in a green dress with flower patterns. Again, very Irish… and don't forget that she has coloured her hair red… beautiful song though and a great performance. This is something Ireland could be very proud of.

3. Erika Selin – Break Me Up (Composed by Gustav Euren, Niclas Arn and Danne Attlerud)
Swedish Erika's song has been getting a lot of attention prior to tonight's show. Not just for the fact that she is Swedish and the song entirely Swedish written, but also when the word spread about her being backed on stage by the Swedish group Timoteij known from Melodifestivalen. Break Me Up is a country pop song that starts with a whistle, which is being repeated later in the song. Erika is dressed in a golden coloured jacket and a short black skirt. It is a catchy song and one you can sing along to quite quickly. This is what Linda Martin calls a Scando-Irish song, and it is one that the fans will love.

4. Nikki Kavanagh – Memories (In Melody) ( Composed by Lee Anna James, Elena Morosanu, Simon Gribbe, Johnny Sanchez and Dimitri Stassos)
She knows both Eurovision and Eurosong, so Nikki might be slightly less nervous than her competitors. In 2010 she backed up Niamh Kavanagh at the Eurvision Song Contest, and the year after she came second in Eurosong losing to Jedward. Just like Kat Mohan, Nikke also has a Eurovision contestant behind her as Dimitri Stassos is the composer of two previous entries; Spain 2009 and Greece 2012. This time Nikki comes with a powerful song which offers a bit of rock edge on the chorus where she also needs to manage the higher notes, which unfortunately was quite a problem for her tonight. Nikki is dressed in a long sleeveless black dress and with her on stage she has three musicians and two backing singers. 
5. Molly Sterling – Playing With Numbers (Composed by Molly Sterling and Greg French)
Youngest participant of the night with her only 16, but Molly is already working on her album which will include this partly self-written entry. This is a beautiful piano ballad, which it is hard to directly dislike, but in tonight's performance it somehow lacked a bit. We have Molly on stage playing piano and with her on stage are three musicans and two backing singers. Molly keeps sitting at the piano all through the song. She was wearing a lace top and a black leather jacket. A good performance from a big talent, but she will have to compete with Kat Mohan for the ballad votes and it is hard to predict who wins that race. 
The show:
The national final in Ireland with the title Eurosong was as usual held as a part of the evening talkshow The Late Late Show. Ryan Tubridy was hosting the show. In greenroom things were usual as well with Martin Whelan.
We started with a medley which included Puppet On A String, Boom Bang A Bang, Jack In A Box, Love Shine A Light and Waterloo which was performed by Linda Martin, Niamh Kavanagh and Paul Harrington. In the audience we saw quite a lot of flags from various participating countries making it look like a Eurovision show.
Videoclips from Ireland's seven Eurovision victories was shown in the programme where we also were reminded of Linda's heavy argument with one of the mentors from last year's Irish final.
A Eurovision quiz was held on stage between Martin Whelan and a 16 year old Eurovision fan in the audience. They competed for Johnny Logan's Eurovision jacket… and the winner was the fan from the audience. Later on a quiz was held where two teams competing guessing Eurovision entries which they then performed.
In the audience we had Muriel Day who represented Ireland at the Eurovision Song Contest in 1969. In an interview with the host of the show, she revealed that she just released an album, her very first album.
Two from the audience were competing in a singing duel where their half of the audience would win beauty products from a sponsor. They were competing singing Hold Me Now, Ireland 1987. 
Shortly before the points were announced Niamh took the stage once again performing Congratulations, UK 1968, this time performed as a duet with Phil Coulter.
The voting:
The result came to happen based on regional juries and televoting. The lines didn't open before all songs had been performed. A cash prize of 30.000 euros were given to one lucky televoter who answered correctly on which city that will host this year's Eurovision Song Contest. 
Judging from the panel in the studio it would be a race between Kat Mohan and Molly Sterling, but they didn't have any influence.
The 12 points from the juries:
Galway awarded 12 points to song nr. 2
Cork awarded 12 points to song nr. 3
Dublin awarded 12 points to song nr. 2
Limerick awarded 12 points to song nr. 5
Sligo awarded 12 points to song nr. 5
The TV viewers prefered song nr. 5 and as a combined winner we had Molly Sterling. 
Ireland at the Eurovision Song Contest: 
With a total of seven victories in the Eurovision Song Contest, Ireland hold a very impressive record. Another impressive record is their three victories in a row from 1992 to 1994. Ireland has earned the title as the most succesful Eurovision country which their former winner Johnny Logan previously joked about with saying that "The Eastern European countries joined the contest. They didn't know differently and thought it was a tradition to award Ireland with the 12 points".
It is not just due to the Eastern European, but lately things have started to become more difficult for the coutry that joined the contest in 1965, with failing to reach the final in 2005, 2008 and 2009. Since their last victory, by Eimear Quinn in 1996, Ireland has only finished in top 10 three times.