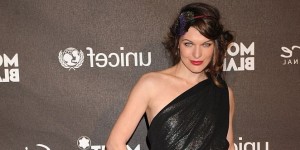 It has been speculated in the Serbian media that the Ukrainian actress Mila Jovovich who is also popular in Russia will be one of the hosts of the Eurovision Song Contest which will be held in Moscow this year. It's not confirmed yet but last year's hosts also may take part at the contest as special guests this year.
Milica Natasha Jovovich, known as Mila Jovovich, has been rumoured as the female host of the Eurovision Song Contest this year. Her partner host's name is still unknown but it's also romoured that he will be someone popular from Russian celebirities.
It's also told that Zejlko Joksimovic and Jovana Jankovic, who were the hosts of the last year's Eurovision Song Contest that was held in Belgrade – are also going to appear as special guests at this year's Eurovision Song Contest in Moscow.
Mila Jovovich is a popular actress in Russia and Serbia as she was born in ex-Soviet Union to a Serbian doctor and a Russian stage actress. Mila moved to California in 1991 after the Soviet Union collapsed. Mila is a succesful actress and model nowadays and her movie appearances include Two Moon Junction, The Fifth Element, Resident Evil, The Story of Joan of Arc, The Million Dollar Hotel.