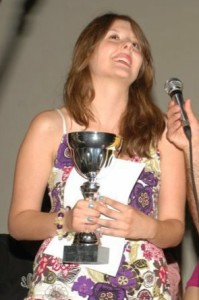 Mila Janevska, who finished 2nd in the 2009 FYR Macedonia Junior Eurovision final, has just won the popular Kinderstar festival in Skopje.  Mila interpreted a song from German singer, Nina, called Irgendwie, Irgendwo, Irgendwann.
The Kinderstar competition involved 12 singers selected from regional competitions.  The grand final was held in Skopje.  All the performers had to interpret a Germany song.  Mila performed the popular hit from Nina.  She was voted the winning act and will go to Germany in August as part of the prize. 
Mila finished runner up to Sara Markoska in the 2009 FYR Macedonia Junior Eurovision contest with the song Nema Boja Ljubovta.  Mila also recorded this song in Spanish.
Mila is gaining much experience in festivals in FYR Macedonia and Spain and we should watch out for her in future Eurovision shows.