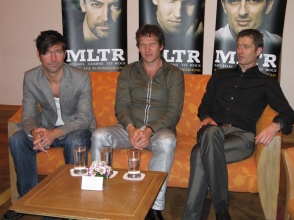 The massive riots in Thailand the last couple of days forced the Danish band MLTR to stay longer after a concert in the country where riots have closed all flight traffic. After some uncomfortable days it now looks like they can finally get home.
Michael Learns To Rock with lead singer Jasca Richter, who wrote the 1996 Dansk Melodi Grand Prix winner, are quite popular in Asia and as such they are often touring in that area. This time their delay in Thailand was not very pleasant though, as it happened as internal riots broke out in the country and closed down for all flights. Michael Learns To Rock got stranded in the popular holiday destination just like the Danish crown prince Frederik and his wife Mary were.
While the Royal couple were flown out from a military base the rest of the Danes can now look forward to being able to get home as the Scandinavian airlines company, SAS, are expecting to be able to start bringing the stranded Scandinavians back from Sunday evening. Michael Learns To Rock has however found another solution to their problem. They have hired a bus to bring them to Kuala Lumpur in Malaysia from where they can get a flight to Stockholm.