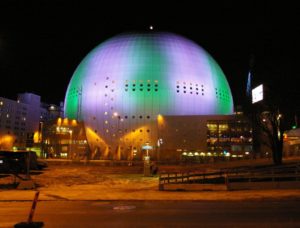 Swedish broadcaster SVT has announced the cities to host the 2010 edition of Melodifestivalen. Some changes in the rules are also under discussion.
The schedule will be as follows:
6th february: Örnsköldsvik, Swedbank Arena (Semifinal 1)
13th february: Sandviken, Göransson Arena (Semifinal 2)
20th february: Göteborg, Scandinavium (Semifinal 3)
27th february: Malmö, Malmö Arena (Semifinal 4)
6th march: Örebro, Conventum Arena (Second chance)
13th march: Stockholm, Globen (Final)
Worth mentioning here is that two cities makes their debut: Sandviken & Örebro
What kind of changes in the rules that we will see in 2010 is not clear yet but Christer Björkman hints about that there are going to be some changes and that they are still under discussion. Some sources says that the duels in the semifinals from 2009 will be removed.
The system with the duels and an international jury was introduced for the first time in 2009. The idea was to add even more excitment and nerve but the system was criticized for being too complex for both performers and viewers.