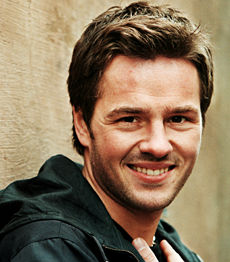 The fourth heat in Sweden just ended. After the performance of the remaining 8 songs in the selection the last two direct qualified positions for the final in Globen were filled. As two more acts went to the second chance round the line-up for the next heat is known.
About the host city:
Tonight's 4th heat in the 2010 Swedish selection was held in Malmö, south Sweden – just across of the Danish capital Copenhagen. In fact with only 10 minutes train drive between the two cities quite a lot of Danish fans were seated to watch the last ordinary heat in this year's Melodifestivalen.
Malmö hosted the 1992 Eurovision Song Contest after Carola's international victory the year before. Eight acts were hoping that they could do the same as she did, but in order to represent the country in Oslo in May they needed first to qualify for the national final in two weeks in Globen, Stockholm.
Result of the 4th heat in Melodifestivalen 2010:
The five acts with the most votes are: Song nr. 3, song nr. 5, song nr. 6, song nr. 7 and song nr. 8.
Out of those the one with the highest amount of votes gets the first secured place in the final in two weeks. Tonight that was Anna Bergendahl. NEO and Pernilla Wahlgren gets a second chance next Saturday to qualify as well. Out of the remaning two songs one more will qualify directly for the final. In this fourth heat that turned out to be Peter Jöback.
Tonight's participants:
1. Song title: Stop
Composers: Mikaela Stenström, Dimitri Stassos
Performer: Sibel
Sibel is being lifted down to the stage. She is wearing a very pink short dress which makes her look like a flower! She has 6 dancers on stage wearing diver custumes. It is an up-tempo pop song with a lot of energy. 
2. Song title: Magisk stjärna
Composers: Py Bäckman (music, lyrics), Micke Wennborn (music)
Performer: Py Bäckman
Py is wearing a long jacket and blue sunglasses. As she stads there she looks like Ozzy Osborne who has borrowed Elton John's glasses! She has a piano player on stage and four backing singers, two from each gender. It is a quiet lullaby which says goodnight. 
3. Song title: Human Frontier
Composers: Anneli Axelsson, Tobias Jonsson
Performer: NEO
NEO enters the stage with a lot of snoke around him. He has four female dancers around him. He is dressed in a long jacket with a old fashion British gentleman dress underneath. It is a a catchy pop song in best De Toppers style. He is secure on stage and this looks like a clear final spot for him.
4. Song title: Thursdays
Composers: Peter Boström (music), Thomas G:son (music), Sharon Vaughn (lyrics)
Performer: Lovestoned
Lovestoned uses the classic lin-up with two male and two female singers. In the background they have a harmonica player and a street organ plus two backing singers. It is a pop song with folk music elements. At the end of the song all eight performers are in front.
5. Song title: This Is My Life
Composers: Bobby Ljunggren (music), Kristian Lagerström (lyrics)
Performer: Anna Bergendahl
Anna is alone on stage with a guitar a little big to big… Germany 1982 anyone? She is dressed in a short white dress. Half way through the song she leaves the guitar and a line of 6 backing singers are revealed in the background. Near the end they move forward to support Anna in this ballad.  
6. Song title: Jag vill om du vågar
Composers: Pontus Assarsson (lyrics & music), Daniel Barkman (lyrics), Jörgen Ringqvist (lyrics & music)
Performer: Pernilla Wahlgren

Pernilla is dressed in a short gold pattern dress. It is a pop song in best Swedish Schlager style and people can decide themselves if it is Carola or Charlotte Perrelli they get to think of. The song is catchy with four male dancers and as we haven't had many songs like this in this year's Swedish selection this appears quite sure to go to the final. 
7. Song title: Idiot
Composers: Per Aldeheim, Niklas Jarl
Performer: Noll disciplin
Noll disciplin is a young rock band. This is three guys with guitars and a drummer just behind them. They are all dressed very casual. The lead singer even wearing shorts! They have a lot of energy on stage in this rock song, which will appeal a lot to the younger audience.
8. Song title: Hollow
Composers: Anders Hansson, Fredrik Kempe
Performer: Peter Jöback
Peter Jöback is dressed in a long black jacket with gold pattern on it and black jeans. It is a strong ballad with a lot of smoke and laser lighting to set the atmosphere. Two third through the song it stops for a second and continues with one more run of the chorus.
Previous MF experience:
Several of the participants have previously tried to get to represent Sweden at the Eurovision Song Contest. Sibel participated in 2008 with the song That Is Where I Go. She made it to the final via the second chance round. Py Bäckman is quite a veteran with five previous attempts in the years 1979 to 2002. Pernilla Wahlgren participated in Melodifestivalen for the first time in 1985 with the song Picadilly Circus, which has become quite a classic among Eurovision fans despite not making it to the international final. She tried again in 1991 and later in 2003, but has yet to win Melodifestivalen. Peter Jöback took part in the 1990 Swedish final with the song En Sensation.
The show: Just before the voting result were revealed we were treated to a medley of some of Sweden's classic songs. The medley featured Lill-Babs and Claes-Göran Hederström who represented Sweden back in 1961 and 1968. Tonight they sang their own entries from that time April April and Det börjar verka kärlek, banne mej.