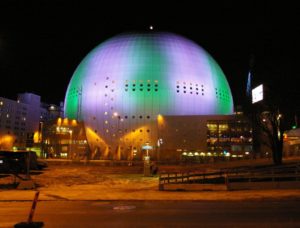 Swedish broadcaster SVT has now revealed which cities will play host to Melodifestivalen 2009. There are no surprises this year as each of the cities hosted Melodifestivalen semi-finals before.
The concept with 4 semi-finals was introduced 2002, and SVT has decided to keep it for Melodifestivalen 2009. Gothenburg, Skellefteå, Leksand and Malmö get to host one semi-final each, Norrköping hosts Second Chance and Stockholm is hosting the grand final.
This means that the three biggest cities in Sweden are hosting Melodifestivalen next year. As usual, there is one semi-final in a city in the north of Sweden and one semi-final in one of the smaller cities.
In 2008, Karlskrona hosted one of the semi-finals. Mikael Fransson, head of the arena in Karlskrona, was responsible for the semi-final. He tells SVT in an interview that it means a lot for a city to be the host of a Melodifestivalen semi-final. In Karlskrona, they have calculated that they got publicity for about 25 million (Swedish kronor) worth between January and March 2008.
Malmö was the host city for one semi-final in 2004. Next year they get to host the competition again, but this time in a new arena that will host its first production in November 2008.
This is the full tour schedule for Melodifestivalen 2009:
Semi-final 1: Saturday February 7th 2009 in Scandinavium, Gothenburg
Semi-final 2: Saturday February 14th 2009 in Skellefteå Kraft Arena, Skellefteå
Semi-final 3: Saturday February 21st 2009 in Ejendals Arena, Leksand
Semi-final 4: Saturday February 28th 2009 in Malmö Arena, Malmö
Second chance: Saturday March 7th 2009 in Himmelstalundshallen, Norrköping
Final: Saturday March 14th 2009 in the Globe arena, Stockholm