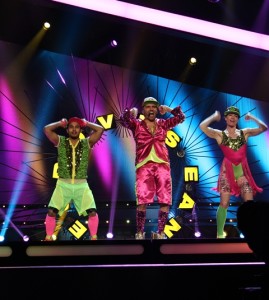 After two whole days of rehearsals with journalists watching and judging them, tonight it was finally time for the artists first public rehearsal. The audience favourite tonight was no other then Sean Banan. Another unexpected favourite was the interval act with Danny and Gina who got the best response of the night. Do not miss that tomorrow.
The songs
Song number 1: Anton Ewald – Begging
(Fredrik Kempe and Anton Malmberg Hård af Segerstad)
First song of the night and the audience got all worked up when Anton walked down the catwalk to Beyonce's Single ladies. Though when Anton entered the stage the first response in the arena are quiet cool. Not until the first chorus you could hear people clap along to the song. Anton doesn't seem to be bothered by the cool response, he smiles and enjoys his performance. When he does the somersault he gets a lot of cheers as well as when he finishes his performance. 
Song number 2: Felicia Olsson – Make Me No 1
(Amir Aly, Henrik Wikström, Ingela Pling Forsman and Maria Haukaas Mittet)
The arena quiets down when Felicia enters the stage with her soft ballad. This is Felicia's best rehearsal of the week, the singing is right where it should and she shows a lot of emotions. She gets a lot of applause and cheer when she is finished.
Song number 3: Joacim Cans – Annelie
(Joacim Cans)
Joacim is excited when he enters the stage and gets a lot of cheers already before the song started. He dances around on stage, smiles and flirts with the cameras. It's a pretty cool response in the arena during his performance, maybe because it's mostly families in the arena at the dress rehearsal and this is far from a typical Melodifestivalen song. The cool response continues when the performance is finished, he gets applause and cheers but not as much as Anton did earlier.
Song number 4: Swedish House Wives – On Top of the World
(Peter Boström and Thomas G:son)
Not even Swedish House Wives up tempo song gets the audience going. The audience doesn't start to clap along until the first chorus. The wind machine continues to cause problems for Pernilla who has her hair in her face for during the performance. They get a lot of applause after they've finished their performance, only Anton got more applause so far.
Song number 5: Erik Segerstedt & Tone Damli – Hello Goodbye
(Robin Fredriksson, Mattias Larsson and Måns Zelmerlöw)
The audience likes Erik and Tone and cheers even before Erik starts to sing. In total this is a good rehearsal for Erik and Tone, however they still need to work at a few of the camera angles as they stand to close together at some points and block each others faces with their microphones. The audience likes this soft song though not as much as Anton and Swedish House Wives.
Song number 6: Louise Hoffsten – Only The Dead Fish Follow The Stream
(Louise Hoffsten, Sandra Bjurman and Stefan Örn)
Louise is a famous artsit in Sweden and gets a lot of applause when she enters the stage. She has been secure through all of the rehearsals this week and she delivers a solid rehearsal tonight. She gets a lots of cheers and applause after her performance.
Song number 7: Rikard Wolff – En förlorad sommar
(Tomas Andersson Wij)
Rikard Wolff is a loved actor and singer, but surprisingly the arena quiets down during his performance. Not that strange since this is a very soft song. The response from the audience is again quiet cool after the performance.
Song number 8: Sean Banan – Copacabanana
(Sean Banan, Ola Lindholm, Hans Blomberg and Joakim Larsson)
The families in the arena has been waiting for Sean Banan, that is not hard to tell from the response when he enters the stage. The audience cheers and claps along right from the start. They also cheer after each and everyone of Sean Banan's stunts. There are a lot of technical elements and costume changes in Seans performance which need to work out. Tonight Sean does not succeed with the first costume change and has to dance around with the withe pants around his ankle for a while. He gets tonight's loudest applause and cheers for sure.
The show
The show is opened with a recap of last weeks semi final followed by a welcome speech from the hosts. Danny once again makes fun of his runner up position last year.
The hosts presents this weeks participating artist and the artist getting most applause and cheer is Sean Banan.
After the artist presentations we are shown a pre recorded video with Siw Malmkvist, Towa Carson and Ann-Louise Hansson interpreting several former Melodifestivalen entries. The three ladies then comes out on stage and sings Eric Saade's Popular, but with new lyric about how it is to be retired.
As a first interval act Ann-Louise Hansson, Siw Malkvist and Towa Carson performs their Melodifestivalen entry C'est la vie.
After the second voting round there are a second inteval act where Danny, Gina and several dancers performs a spectacular Bollywood version of Danny's Melodifestivalen entry In the club.
The second semi final of Melodifestivalen is broadcasted tomorrow evening at 20.00 CET at SVT.