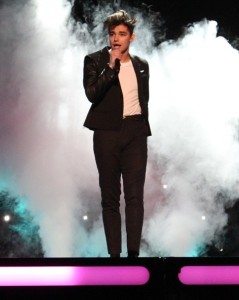 After four semi finals we now know eight of the ten finalists that will compete to be Sweden's representative in Eurovision Song Contest in Malmö in May. On Saturday eight more artist will battle for the two remaining spots in the final. In the article below you will find the running order as well as the new rules for the second chance heat.
This year SVT introduces new rules for the second chance heat which will now be much more like the other semifinals. In the first round of voting the eight participating artists will compete on equal terms. And just as in the semifinals five songs will then go through to a second round and three of the songs will be out of the competition.
In the next round of voting the five remaining artists will keep their number of votes from the first round, the new numbers will then be added to the old ones. After the second round of voting the artist with the lowest amount of votes has to leave the competition. The remaining four artists will then settle the matter with duels where the winner faces the fourth place finisher and the runner up faces the third place finisher. The two winners of the duels will be this week's two finalists.
The running order for the second chance heat was decided by Christer Björkman, producer of Melodifestivalen 2013 after the fourth semifinal, you will find it below.
The running order:
Song number 1: Robin Stjernberg – You
Song number 2: Eric Gadd – Vi kommer aldrig att förlora
Song number 3: Caroline af Ugglas – Hon har inte
Song number 4: Behrang Miri – Jalla Dansa Sawa
Song number 5: Erik Segerstedt & Tone Damli – Hello Goodbye
Song number 6: Anton Ewald – Begging
Song number 7: Cookies N Beans – Burning Flags
Song number 8: Martin Rolinski – In And Out Of Love