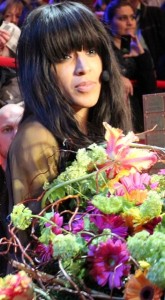 After six weeks, four semi finals and one second chance heat, tonight it was finally time to select who is going to defend the Swedish colours in Baku. Loreen has been the Swedish audience favorite right from the start and got the highest vote both from the juries and the Swedish viewers.
The opening act
After a recap of the winners of Melodifestivalen over the last 10 years the hosts opened the show with the song Baku, Baku which was their title of the song New York, New York. Next up was a presentation of tonight's ten participating artists.
Every year, the winner gets a trophy called Sångfågeln and its a tradition that the winner from last year hands it over. Eric Saade was called to the stage already in the opening of the show and entered the stage with a dance crew. Eric performs his songs Hearts in the air and Hotter than fire.  
 
The songs
Song number 1: David Lindgren – Shout it out (Tony Nilsson and Fernando Fuentes)
David Lindgren's song is a feelgood pop song that's not that different to Danny's song from last year, In the club. David Lindgren came from what seemed like nowhere and was one of this years biggest sensations in Melodifestivalen when he saild right through to final from the semi final in Gothenburg a couple of weeks ago. The audience loved him then, and they still love him. During his performance tonight the audience sang along and cheered for him. A suitable song to open the show with.
Song number 2: Thorsten Flinck & Revolutionsorkestern – Jag reser mig igen (Ted Ström and Thomas G:son)
Thorsten Flinck is one of the two acts that had to go through the second chance heat to come to the final. In his semi final he seemed a little insecure and there were speculations if he would really pull this off. Thorsten Flinck still misses camera angles from time to time but feel much more secure on stage than he has done before. He is theatrical and the audience likes the song and gives him a lot of applause after his performance.
Song number 3: Dead by April – Mystery (Pontus Hjelm)
These guys have been delivering solid rehearsals all the way through. And as tonight was the actual broadcast they seemed to step up one more notch. Both lead singers are vocally excellent and the audience in the arena likes their performance.
Song number 4: Lisa Miskovsky – Why start a fire (Lisa Miskovsky, Aleksander With, Bernt Rune Stray and Berent Philip Moe)
Lisa is another of this years sensations who went right through to the final even though she competed for the spot with former Melodifestivalen and Eurovision Song Contest winner Charlotte Perrelli and loved Swedish artists like Lotta Engberg. Tonight she delivered her song with feeling and flawless singing.
Song number 5: Top Cats – Baby Doll (Lina Eriksson, Mårten Eriksson and Susie Päivärinta)
Top Cats is the other one of the two acts that had to go through the second chance heat to get to the final. That probably gave them that extra experience and security that they needed to be able to really deliver. The entire band seemed much more relaxed on stage tonight and lead singer Jon Kleppenes seem less nervous than during the semi final. This is a feelgood song and the audience is with them from the start, clapping along.
Song number 6: Loreen – Euphoria (Peter Boström and Thomas G:son)
Loreen qualified from the first semi final, and ever since that first week she has been the favorite to win the entire competition. This also became very obvious in the arena as she got an overwhelming response from the audience both before, during and after her performance.  
Song number 7: Ulrik Munther – Soldiers (Joy Deb, Linnea Deb, David Jackson and Johan Åberg)
Ulrik Munther are only 18 years old but already established as an artist, which probably helped him to qualify to the final. Ulrik has a habit closing his eyes, cutting himself off from the viewers. This habit seem to be conspisious when he gets nervous, and tonight it seemed like he was very nervous. But despite that he delivered a great performance on stage and the audience loved him.
Song number 8: Björn Ranelid feat. Sara Li – Mirakel (Fredrik Andersson and Björn Ranelid)
This is probably the act that has gotten most headlines during Melodifestivalen this year, not because of the song itself but because of Björn Ranelid. Just like Thorsten Flinck, Björn Ranelid made a lot of mistakes during the rehearsals of the semi final but tonight he seemed more relaxed and as he enjoyed being on stage.
Song number 9: Molly Sandén – Why am I crying (Molly Sandén, Aleena Gibson and Windy Wagner)
Molly has had a relationship with last years winner Eric Saade and this song is said to tell the story of their relationship, at least a period of it. Molly is an excellent singer and tonight's performance was flawless vocally. The audience loved the performance and really showed Molly their support.
Song number 10: Danny Saucedo – Amazing (Danny Saucedo, Peter Boström and Figge Boström)
Danny is also one of the artists that has been a favorit ever since it was announced that he would participate again this year. This is another feelgood song and the audience was with him right from the start cheering and claping along. Danny has been a little ill during the week and has had problems with his voice. However, today he managed to deliver vocally flawless performance.
The interval act
It's a tradition that last years winning song is performed. Sometimes it's the winning artist that performes their song, often in a new way. Last year hard rock band Dynazty performed Anna Bergendahl's winning song This is my life. This year, SVT decided to aim a little higher and invited former Eurovision Song Contest winner Helena Paparizou to perform Eric Saade's song Popular.
 
The result
1. Loreen – Euphoria (268 points)
2. Danny – Amazing (198 points)
3. Ulrik Munther – Soldiers (88 points)
4. David Lindgren – Shout it out (88 points)
5. Molly Sandén – Why am I crying (77 points)
6. Top Cats – Baby Doll (68 points)
7. Dead by April – Mystery (52 points)
8. Thorsten Flinck och Revolutionsorkestern – Jag reser mig igen (43 points)
9. Lisa Miskovsky – Why start a fire (39 points)
10. Björn Ranelid feat. Sara Li – Mirakel (25 points)