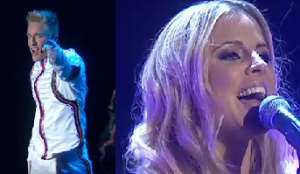 This week's semi final were a battle between several of Sweden's most loved artists but only two of them could go through to the final. The lucky one's getting the desirable spots in the final were Lisa Miskovsky and Danny. Christer Sjögren and Lotta Engberg and Dynazty will have a new chance to qualify in next week's second chance heat.
The opening act
Just like previous weeks the show is opened with a recap reminding us what happened last week. This is followed by performance on stage where the hosts Sarah Dawn Finer and Gina Dirawi sings a song about that their co-host Helena Bergström is back after two weeks absence. It's obvious that the host have been inspired by last weeks finalist Björn Ranelid feat Sara Li. Gina and Sarah sings the choruses and Helena recites poetry in between. 
The songs
Song number 1:  Charlotte Perrelli – The Girl (Fredrik Kempe, Alexander Jonsson)
The Girl is another song by hit machine Fredrik Kempe who also composed Charlotte Perrlli's song Hero, Malena Ernman's La Voix and Eric Saade's song Popular. In this song he mixed the songs Hero and Popular with a little bit ABBA sound, a very effective mix. Charlotte starts her performance on the catwalk where a screen is lowered. She is accompanied on stage by six female dancers. After the first part of the song Charlotte and the dancers returns to the stage for a while and then return to the catwalk and the screen again. Charlotte Perrelli's dress is rumoured to cost a six digit figure and the performance in total is said to have a seven digit cost.
Song number 2: OPA! – Allting blir bra igen (Michael Sideridis)
This Greek influenced song is actually sung in Swedish and the title could be translated to "Everything will be fine". As several of the band members have heavy instruments in their hands they are not able to move around that much. They leave that to the band's singer, who walks back and forth on stage almost throughout the whole song. The Swedish language is not very well fitted to sing to this type of Greek influenced music since it's hard to hear which words that are actually sung. 
Song number 3: Dynazty – Land of Broken Dreams ( Thomas G:son, Thomas "Plec" Johansson)
If you can call hard rock traditional Land of Broken Dreams is a traditional 80's hard rock song. And the performance contains all you would expect from an 80's hard rock band. There are booster's with the band's name on them, lot's of headbanging and lot's of pyrotechnics. Dynazty's singer Nils sometimes seems to forget which cameras to look into but this is all together a great performance.

Song number 4: Lotta Engberg and Christer Sjögren – Don't Let Me Down (Lasse Holm, Lars "Dille" Diedricson)
Being such experienced artists you'd expect Christer Sjögren and Lotta Engberg to do a little bit more with their performance then just walk back and forth on stage. But despite the lack of choreography this is a good performance and both Christer and Lotta's singing is of course flawless. Christer and Lotta are accompanied on stage by five violinist's and a girl playing the cello.
Song number 5: Hanna Lindblad – Goosebumps (Hanna Lindblad, Linda Sundblad, Tony Nilsson)
80's music seems to be little bit of a theme for this year's Melodifestivalen. Also Hanna Linblad's song Goosebumps has a distinct 80's sound to it. This is a song that you'd imagine in one of the 80's movies like Fame or Flashdance. Hanna is accompanied by six female dancers on stage and dances herself throughout the whole song. Hanna is an experienced musical artist and her singing is flawless throughout the whole performance.
Song number 6: Axel Algmark – Kyss mig (Axel Algmark, Mattias Frändå, Jonathan Magnussen)
From traditional Greek music and traditional hard rock in the beginning of this semi final to more typical Swedish music. This is a kind of music that the Swedish viewer's are used to hear from Swedish artists like Håkan Hellström and Veronica Maggio. Axel is accompanied on stage by a band consisting of a drummer, a violinist, a pianist, a guitarist and a bass player and he sings in microphone that is hanging from the ceiling. Axel has a lot of energy and bounces around a lot which makes him miss a few camera angles. All together this is a good performance from debutant Axel Algmark.
Song number 7: Lisa Miskovsky – Why Start A Fire (Lisa Miskovsky, Aleksander With, Bernt Rune Stray, Berent Philip Moe)
Lisa Miskovsky's song is a very peaceful mid-tempo song and those of you that have heard her other songs will recognise her sound. Lisa is accompanied on stage by two female dancers with white glowing dresses with what looks like some kind of wings. In the beginning of the song the dancers are standing on a platforms on each side of Lisa where they stays almost throughout the whole song. Though in the end of the song they join Lisa at the front of the stage and almost surrounds her with their wings. A very good performance from Lisa who despite a cold sings flawless.
Song number 8: Danny – Amazing (Danny Saucedo, Peter Boström, Figge Boström)
This is a feelgood song all the way through. It's no secret that Danny wants to win Melodifestivalen this year and just like Charlotte Perrelli he has put a lot of effort and money to this years performance. He showed the viewer's last year that he is a great singer and dancer but to really be able to give the performance that extra something both he and his five dancers all have custom made suits that glows in the dark. These custom made suits has advanced technology called thin lights to glow in the dark and weighs approximately between 7-10 kilos. Not strange then that Danny sound a little strained in his voice from time to time.
The interval act
After we have heard the eight songs it's time for a first recap followed by host Helena Bergström's four different characters in a pre-recorded video. During the second round of voting Stenhammar Quartet performs Melody Club's song The hunter together with host Sarah Dawn Finer.
The result
Five songs went through from the first round of voting:
1. Why stary a fire – Lisa Miskovsky 
2. Land of broken dreams – Dynazty
3. Amazing – Danny
4. The girl – Charlotte Perrelli
5. Don't let me down – Christer Sjögren and Lotta Engberg
After a second round of voting Lisa Miskovsky and Danny was announced as finalists. Christer Sjögren and Lotta Engberg and Dynazty are both through to the second chance heat next week.
The rest of the result:
5. The Girl – Charlotte Perrelli
6. Kyss mig – Axel Algmark
7. Goosebumps – Hanna Lindblad
8. Allting blir bra igen – OPA!