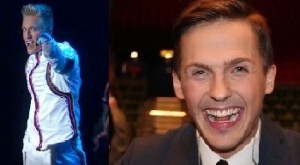 Tonight's second chance heat completed the Swedish line up for the final of Melodifestivalen 2012. Directly after the broadcast, Swedish head of delegation Christer Björkman attended to the task of putting the running order of the final together. David Lindgren will open the final, and Danny will close it.
There has been a lot of discussions in Swedish media and in social networks both about the standard of this year's songs and about who will win Melodifestivalen 2012. One of the most discussed entries this year is without a doubt Mirakel sung by Björn Ranelid feat. Sara Li. This is a song that really divides the Swedish viewer's in two groups, one that loves Björn Ranelid and his song and one who hates it. At one point Björn Ranelid fest so harassed by Swedish media that he threatened to leave the competition.
Though the Swedish viewer's decided early which two artists who would fight for the honour to represent Sweden in Baku. Right from the start Loreen and Danny has been the two names on everyone's lips. The running order can be one way to tell who's going to win. During the last couple of years the winner of Melodifestivalen has started either as number 1 or number 10, with one exception, Anna Bergendahl who started as number 9 when she participated 2010.
This is the complete running order of the final of Melodifestivalen 2012:
Song number 1: David Lindgren – Shout it out (Tony Nilsson and Fernando Fuentes)
Song number 2: Thorsten Flinck & Revolutionsorkestern – Jag reser mig igen (Ted Ström and Thomas G:son)
Song number 3: Dead by April – Mystery (Pontus Hjelm)
Song number 4: Lisa Miskovsky – Why start a fire (Lisa Miskovsky, Aleksander With, Bernt Rune Stray, Berent Philip Moe)
Song number 5: Top Cats – Baby Doll (Lina Eriksson, Mårten Eriksson and Susie Päivärinta)
Song number 6: Loreen – Euphoria (Peter Boström och Thomas G:son)
Song number 7: Ulrik Munther – Soldiers (Joy Deb, Linnea Deb, David Jackson and Johan Åberg)
Song number 8: Björn Ranelid feat. Sara Li – Mirakel (Fredrik Andersson and Björn Ranelid)
Song number 9: Molly Sandén – Why am I crying (Molly Sandén, Aleena Gibson and Windy Wagner)
Song number 10:Danny Saucedo – Amazing (Danny Saucedo, Peter Boström, Figge Boström)