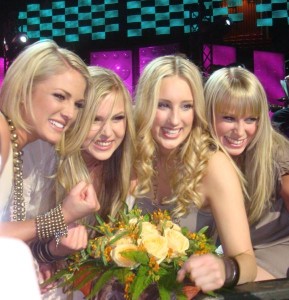 Today the swedish broadcaster SVT held a press conference to officially announce the first 16 artists who will compete in semifinal 1 and 2 of Melodifestivalen 2012. Afrodite is back again along with the Moniker, Loreen, Sonja Aldén and Marie Serneholt. Among the newcomers we have names like the experienced Thomas Di Leva and the young Ulrik Munther.
Heat 1 – Växjö, VIDA Arena (4th of February)
Loreen – Euphoria (Thomas G:son, Peter Boström)
The Moniker – I want to be Chris Isaak (The Moniker)
Thorsten Flinck & Revolutionsorkestern – Jag reser mig igen (Thomas G:son, Ted Ström)
Dead by April – Mystery (Pontus Hjelm)
Abalone Dots – På väg (Abalone Dots (Rebecka Hjukström, Sophia Hogman, Louise Holmer), Viktor Källgren)
Marie Serneholt – Salt & pepper (Lina Eriksson, Mårten Eriksson, Figge Boström)
Sean Banan – Sean den förste banan (Sean Banan, Joakim Larsson, Hans Blomberg, Mårten Andersson)
Afrodite – The boy can dance (Figge Boström, Catrine Loqvist, Johan Lindman)
Heat 2 – Göteborg, Scandinavium (11th of February)
Andreas Lundstedt – Aldrig aldrig (Niclas Lundin, Maria Marcus, Randy Goodrum)
Top Cats – Baby doll (Mårten Eriksson, Lina Eriksson, Susie Päivärinta)
Mimi Oh – Det går för långsamt (Anton Malmberg Hård af Segerstad, Niclas Lundin)
Thomas Di Leva – Ge aldrig upp (Thomas Di Leva)
Sonja Aldén – I din himmel (Sonja Aldén, Bobby Ljunggren, Peter Boström)
David Lindgren – Shout it out (Tony Nilsson, Fernando Fuentes)
Ulrik Munther – Soldiers (Ulrik Munther, Johan Åberg, Linnea Deb, Joy Deb, David Jackson)
Timoteij – Stormande hav (Kristian Lagerström, Johan Fjellström, Stina Engelbrecht, Jens Engelbrecht)
The starting order and the 16 other names will be known at next weeks press conference.