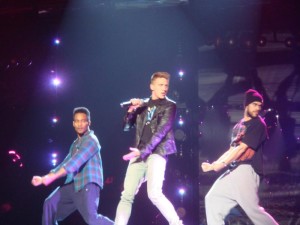 On Thursday it was finally time for the finalists first rehearsals on stage in Ericsson Globe Arena in Stockholm. EuroVisionary attended the rehearsals to provide you with the latest news about the artists and their performances.
The reactions to this year's edition of Melodifestivalen has been strong all over Sweden and the viewer's seem to be divided in two different sides, those who think this year's song's are exceptionally good and those who thinks it's all rubbish. There are also a third group saying that several songs are great but that the viewers only vote at the bad ones. Is it excellent or rubbish? Judge for yourselves after reading this article.
At this first rehearsal the artists rehearses without their actual clothes and not in order of appearance on Saturday. You will find pictures from the rehearsals in our image gallery
Danny– In the Club ( Figge Boström, Peter Boström, Danny Saucedo) 
Danny starts his rehearsal humming his song in the microphone and talking to members of the production about which cameras to look in. There are no noticeable changes in Danny's performance, he starts the song behind the screen with the back to the audience and comes to the front of the stage right in time for the first chorus. And just like in the semi final he is accompanied on stage by five dancers. His singing is flawless and it seems like it's all perfect, though Danny says to his dancers that they have gotten to close to the edge of the stage. All of the run-trough's on stage runs very smoothly and Danny seems to be enjoying the rehearsal.
Eric Saade– Popular (Fredrik Kempe)
Just like Danny Eric starts of by talking to the production crew and his dancers about camera angles and what other things to think about. He seems to enjoy the rehearsal but sometimes his voice sound a little strained. And as it turns out he holds back a lot during his third run-through and does not sing during any of the difficult parts in the song. Does he have problems with his voice or is he just holding back to save his voice for Saturday? His dancing is excellent though and his performance still holds a high level. During his fourth and last run-through he sings the whole song and pulls it off alright.
Brolle – 7 Days And 7 Nights (Brolle)
Brolle really seems relaxed on stage. He smiles throughout his first run-through and jumps around, and his singing is flawless. In between the rehearsals he stands alone on stage just waiting for the production to get ready for one more run-through. There are no noticeable differences in his performance, he is still alone on stage and all of the focus is on him. In the beginning of the song and in the end you see is letters on the stage floor spelling 7 day and 7 nights. So far, Brolle is the most relaxed artist rehearsing today.
The Moniker– Oh My God! (Daniel Karlsson)
It's only been one week since the second chance heat in Sundsvall, so it's no surprise that The Moniker seems secure on stage and really have time to enjoy the rehearsal. There are no changes in his performance or on the colorful backdrop, he is still accompanied by a band and a choir. The Moniker, or Daniel Karlsson as his real name is, is a debutant i Melodifestivalen but that doesn't show at all. He smiles on stage jokes around with production crew and the girls in the choir. Sometimes it seems like he makes small mistakes, like dropping his microphone stand and missing camera angles, but then he just pulls a face, smiles and continues his performance.
Linda Bengtzing– E det fel på mej (Pontus Assarsson, Thomas G:son, Jörgen Ringqvist, Daniel Barkman)
There is a lot of energy when Linda is on stage. She is often criticised because she tends to get too energetic during her performances but this time she finds a good balance. When she gets too energetic she gets a strained voice but today it sounds great. Just like in the semi final Linda is accompanied on stage by a choir (one boy and one girl) and four dancers. Even though you didn't see any mistakes during Linda's first run-through she has a long discussion with the production crew between the first and the second run-through. During the second and third run-through it's obvious what the problem is, one of the dancers trampolines does not seem to work so either falls off it or does not get on it at all. As the dancer has problems with the trampoline she is not able to join the other three dancers in time. 
Nicke Borg– Leaving Home (Jojo Borg Larsson, Nicke Borg, Fredrik Thomander och Anders Wikström)
Just as in the semi final Nicke Borg is alone on stage only accompanied by two screens. His performance is solid and he nails it right from the first run-through. Unlike a few of the other artists he does not hold back at all during his performance, he has a rough voice that suits the song perfectly. He seems secure and relaxed. Between the run-trough's he stands alone on stage just waiting for the crew to get ready for one more rehearsal. From time to time he chats a little with people from the crew about the camera angles asking them if he got it all right during the run-through.
Swingfly– Me And My Drum (Teron Beal, Patrik Magnusson, Johan Ramström, Swingfly)
Childish or not, the arena turns into a party when Swingfly enters the stage. Just as in the semi final Swingfly i accompanied on stage by five dancers. In time for the first chorus he is also accompanied by a male singer, Christoffer Hiding and later on a female singer, Bea Star joins them on stage. Between the run-trough's they adjust the volume on Swingfly's microphone and the dancers discuss their steps for a while. This is a crowd that really enjoys their three minutes on stage. Everyone i smiling, joking around and dancing throughout the second run-through. But apparently it's dangerous to have too much fun since Swingfly missed a few positions and camera angles on stage. A woman in the production crew guides him through the camera angles before the last run-through.
Sanna Nielsen–  I'm In Love  (Irini Michas, Peter Boström, Thomas G:son, Bobby Ljunggren)
Sanna hasn't made any major changes in her performance, she has added a little bit of smoke on stage in the beginning of the performance. She kept her cage and starts off alone inside of it during the first half of the performance. For the second half, the dancers let's her out of the cage and she joins them at the front of the stage. Between the first and the second run-through she has a long discussion with the crew and the dancers. Sanna seem out of breath at the finish of the second run-through, maybe it's difficult for her to dance in her extremely high heels? She has one more long discussion with a women from the crew before she get's ready for the third run-through. Even though there is no surprises in her performance, Sanna has decided to do one major change, she will wear a new dress on Saturday! It is pink with sparkles in the decolletage. During what is supposed to be the last run-through something happens with Sanna's microphone and the sound disappears, but as the professional she is she just keeps on going. After one more run-through the sound problems seems to be solved and everything runs smoothly.
The Playtones– The King (Fredrik Kempe, Peter Kvint)
Another party in the arena! These guys are real entertainers and they give us their all during their first run-through. Between the first and the second run through a woman from the crew talks to the band and guide them through which cameras to look in. There also seem to be a little problem with the lights. These guys already have a lot of fans in Sweden, a few missed cameras won't do any difference for them. But of course, practice makes perfect and since this is the final everyone wants to do their very best. The second run-through seems to run a little bit smoother even though the singer looks a little bit insecure from time to time.
Sara Varga– Spring för livet (Sara Varga, Fredrik Boström)
Just like The Moniker, Sara had to go through the second chance heat to qualify to the final. Since it was just a week ago Sara was on stage in Sundsvall she seem relaxed and calm throughout the rehearsals. But she also looks and sounds a little bit insecure on stage from time to time but pulls it off. As neither she or the production crew needs more the two run-trough's she only sings her song two times before she leaves the stage.