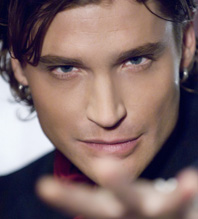 A nice mix of well known names & newcomers were presented today as SVT announced most of the names of the performers to compete in semi final 1 & 2 in next years swedish national selection Melodifestivalen.
Semi final 1 – Örnsköldsvik – 6th of february
Anders Ekborg – The Saviour
Anders is an successful singer & actor who has taken part in several musicals.
The song is described as a mix between Freddie Mercury & Pavarotti.
Frispråkarn – Singel
Håkan Bäckman, with his alias Frispråkarn, is a rap artist with his roots in Stockholm.
The song is said to an upbeat cross between hip hop and R&B.

Jenny Silver – A place to stay
Jenny Silver is known to a lot of people as Jenny Öhlund, lead singer in the very popular dance band Candela. Jenny has changed her musical course since many years ago and has taken part in musicals & been singer in a rock band. The type of song she will perform this time will be a wistful & hopefull pop song.
Jessica Andersson – I did it for love
Jessica is a well known for the followers of Melodifestivalen. She was part of the group Fame who won MF in 2003 and came 5th in the final in Riga. She also took part in 2006 (did not get through the semi final) and 2007 (eliminated in the second chance heat).
The song is described as an emotional ballad.
Linda Pritchard – You're making me hot-hot-hot
Linda took part in the swedish talent show Idol in 2008. She will sing an uptempto song with influcenced by latin music.
Ola – Unstoppable
Ola Svensson took part in Idol 2005 and had a quite successful career after that. He has topped the swedish singles charts on several occasions. In 2008 he took part in Melodifestivalen with the pop song Love in stereo (eliminated in the second chance heat).
Pain of Salvation – Road salt
Pain of Salvation is a progressive metal band.
Salem – Keep on walking
Salem al Fakir is one of this years wild cards. He is a well established name in Swedish music and has earned a lot of praise from both music critics & audience since his debut in 2006.

Semi final 2 – Sandviken – 13th of february
Andra Generationen & Dogge – Hippare Hoppare
Andra Generationen took part in Melodifestivalen 2008 (5th in one of the semifinal). Dogge was the front-man of the successful hip hop group Latin Kings.
The song itself is described a mix of balkan dance music & hip hop.
Andreas Johnson – We can work it out
Andreas is a well known name. He had a hit both in Sweden & abroad with "Glorious" in 1999. He was 3rd in Melodifestivalen 2006 with "Sing for me", 2nd in 2007 with "A little bit of love" and competed together with Carola in 2008 with "One love" (eliminated in the second chance heat).
Anna-Maria Espinosa – Innan alla ljusen brunnit ut
Anna-Maria is a singer whose name is quite well known on the music scene but still not too well known for the big audience.
Eric Sadee – Manboy
19 year old Eric has a past in a swedish boyband and is unknown to the large audience.
Hanna Lindblad – Manipulated
Hanna is a musical artist who will sing a song described as a sexy club/dance song with strong influenes from R&B.
Kalle Moraeus & Orsa spelmän – Underbart
Orsa spelmän is a swedish folkmusic group playing traditional swedis folkmusic.
The web wild card – Come and get me now
The winner of the web wild card earlier this autumn is going to be performed by a performer that is yet to be announced. The song is an uptempo song
Wild card – yet to be announced