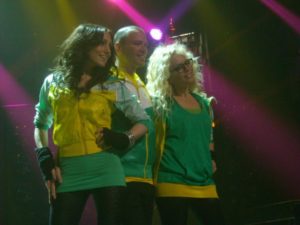 During the first day of rehearsals there was a big press conference with all of this weeks participating artists. First we had an opportunity to take pictures of each of the contestants and afterwards we were able to speak with three of the contestants, Alcazar, Darin and Elin Lanto.
Alcazar
You have participated a couple of times now, what motivates you to do this over and over again?
We want to get as far as possible in this competition, Andreas says. Tess laughs and says: Because we never win! Lina adds: We do this because it's extremely fun and to be 1 of 32 participants is great. We're in the music business and music is what we do, so this is just wow, Lina makes a hand gesture that suggests that she is excited about this fact. Andreas says: It's an honour to participate and nothing you take for granted, even if there are people that think we do this because we have participated several times. But every year is a new journey,a new adventure and a new song. Tess says: Just to be selected to participate, and this is the fourth time. We got a really great song, it's all about the song, it all depends on the song.
How did you prepare for Melodifestivalen this year?
Andreas says: The time has really flown by, it seems like it was yesterday we were here. The song Stay the night was very succesful and we have been on tour both in Sweden and abroad. We have been working a lot because Stay the night gave us so much. We have gotten even more routine as "new Alcazar" because we have done so many shows together. This has been a really good year for us.
What question would you liked to be asked and what would your answer be?
Tess says: What do you want the headlines to say on Sunday morning? And the answer is of course: Alcazar through to the final in Globen!
Andreas says: My question was more like: What makes you keep going? And the answer is: Because we love music, and we love our job!
Darin
You are still very young but have accomplished a lot of great things already, do you still have dreams that you want to fulfill?
Darin says: Right now I'm a lot in the studio and writing a lot of music. And I want to continue with that. My goal is to reach out to a bigger audience with my music both in Sweden and abroad.
How did you prepare for Melodifestivalen?
I have been resting a lot and got a good nights sleep last night, which was very nice. My first rehearsal isn't until later this afternoon. That will be my first time on stage.
What are your expectations for the upcoming weekend?
I want to deliver a great show, to do my best. But then you never know what will happen.
What question would you liked to be asked and what would your answer be?
My question would be: What caught my attention with this song?
I got a feeling right from the first time I heard it. I recorded it and I knew right away when I heard my recording that this was "the song".
Elin Lanto
What motivated you to participate in Melodifestivalen again?
It was a desire to do this once more, I felt that it would be so much fun to do this one more time. When it comes to Melodifestivalen, everything is so big. There is nowhere else you get the chance to do shows like this with custom made clothes  and dressed hair, and of course the song means a lot. This is the kind of a song where I can visualize a show when I see it and then it will fit perfect in Melodifestivalen.
What motivates you as an artist?
It can be different things, It depends on what period you are in, but right now it's just pure happiness. Everything is so much fun, I love to be on stage and I have a desire to go to the studio. And it isn't always like that, in periods it feels more like a job, like this is just something I do good. But I always have clear goals and always know what I want.
How did you prepare for in Melodifestivalen?
I haven't really done anything special, but for example I've been seeing a vocal coach. She has given me a few advices how to keep my voice clear. Among other things she gave me a herbal drink, the herbs makes the drink green and it taste's like a horse smells.
What question would you liked to be asked and what would your answer be?
I would ask: How did you get the ideas for your act on stage?
And the answer would be that the song just made me see those pictures when I heard it. And it's because of that it's so much fun to do this. You can't do this kind of show in an ordinary performance.
You will find pictures from the press conference in our Image Gallery.
EuroVisionary would like to thank Alcazar, Darin and Elin Lanto for taking their time to talk to us.