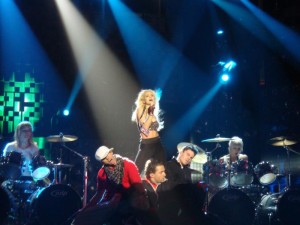 The third semi final of Melodifestivalen 2010 is coming up on Saturday. Eight new artists will battle for two spots in the final and additional two artists will be competing for two spots in the second chance heat. Among the competing artists you'll find stars like Alcazar and Darin.
The journalists have been gathered in the arena since early this morning and are following every move the artists make on stage. Each artist can rehears their song four times, and today they will rehears without the actual clothes they will wear on Saturday. We only get to see the clothes on a hanger. If there are any special effects we only get to see very little of them, and then only during the last run-through. Of course EuroVisionary attended the rehearsals to be able to give you a little preview of what will happen on Saturday. Make sure to visit our Image Gallery with photos from first day's rehearsals.
Headlines – Alcazar
On stage: During this first rehearsal Tess, Andreas and Lina have matching clothes in green and yellow. On stage are the three members of Alcazar and four female dancers. The dancers all wear pink gloves during the rehearsals, it will be exciting to see their entire outfit tomorrow. Both Tess and Lina wears black and sparkly knee-high boots which they probably will be wearing on Saturday too. Big letters spell Alcazar all over the stage, during the intro of the song the dancers have climbed up on the letters. As last year this song really grows when you see the show on stage. This is a real Alcazar show number but the song is much more silent then last year. But with a great show and if the overall picture is good this might just work. And, of course Carola's wind machine is back.
Clothes: Andreas will wear black clothes and Lina and Tess will have green and lilac body's. Which one of them will wear which colour will be a secret until tomorrow when the artists will rehears with Saturdays clothes.

Tonight – Johannes Bah Kuhnke
On stage: He starts the song by himself on the left side of the stage, but there is actually an entire band on stage with him. He doesn't really seem to find any of the camera angles during his first run-through. But after a while he becomes more relaxed and smiles and flirts with the cameras. During his last run-through he is really relaxed and does a "Lena Philipson" with his microphone stand and throws it to the ground.
Clothes: Johannes will wear black clothes on Saturday
Doctor Doctor – Elin Lanto
On stage: Elin Lanto has three mannequin's on stage with glowing red eyes. There are also two sets of drums and three male dancers. The dancers start off hanging on the mannequin's and then hides behind them for a while before they join Elin in the center of the stage. The wind machine is back again but it's sometimes so strong that Elin's hair just blows everywhere and her accreditation almost hits her in the face. During the first run-through Elin's voice was a little frail, but during her second run-through you don't notice any of that. Maybe she is holding back to save her voice. This is a real show but the response from the gathered journalists in the arena is somewhat weak.  
Clothes: Black and sparkly catsuit, the dancers will have shirts and west in different shapes and forms. There seems to be some kind of leather corset involved too.
Hur kan jag tro på kärlek – Erik Linder
On stage: Erik starts off alone in the center of the stage but will soon be accompanied by a big choir. This song still breathe's Ted Gärdestad. Erik seems relaxed on stage and flirts with the cameras and the audience. This is a real sweet act and it's very, very Swedish. He gives a very secure impression on stage and all of his rehearsals runs smoothly.
Clothes: Erik will wear a grey suit and a blue shirt. The members of the choir will all have different colours on their clothes, white, light pink and light blue.
Yeba – Getty Domein
On stage: Getty is accompanied on stage by 6 male dancers. This is a man who knows what he is doing, he knows all the camera angles right from the start, he smiles a lot and seems to have a lot of fun on stage. His dancers starts of doing some gymnastic poses and exercises. All you girls out there will really enjoy this act, all of the seven men on stage are real cuties and if nothing else, the girls will pick up their phones because of that. The rhythm and the beat in this song sticks and you can't help feeling happy when you've heard it.
Clothes: Getty will wear a black suit on Saturday.
Kom – Timoteij
On stage: The four members of Timoteij start alone on stage. Each girl with a instrument in their hand: violin, flute, guitar and accordion. After a while four male dancers joins them. The one's of you that did like Caracola and Sarek will love this act. They do really well on stage considering that all of the girls are very young even if they seem a little insecure at times. These group of girls have not one but two wind machines. This is like Erik Linders act, very cute. And the folk music beats seem to appeal to the Nordic viewers. The question is, is this qute enough to go through to the final?
Clothes: Light materials and light colours for example peach and grey.
You're Out Of My Life – Darin
On stage: Darin is all alone on stage through the entire song. This is really emotional and Darin sings with a lot of feeling in his voice and you can see that he means every note he sings. The cameras are working with a lot of close up shots which will make the viewers feel even more connected to Darin on Saturday. Darin is one of few young artists that can pull of being all alone on stage. During Darin's performance, the audience will have neon sticks, just as during Andreas Johnson's performance last week.
Clothes: White suit jacket and a beige sweater
Heaven Or Hell – Crucified Barbara
On stage: All of the four members of Crucified Barbara is on stage. They deliver right from the start and get all of the camera angles. This is a classic hard-rock song with all the ingredients needed.
Clothes: Their clothes will remain a secret until tomorrows rehearsal.