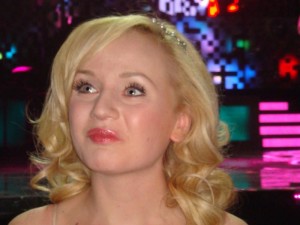 Now the Melodifestivalen journey is coming to an end. Tomorrow 10 acts will battle for the spot as the Swedish representative in Oslo. EuroVisionary attended the dress rehearsal on Friday night to try to find out what's new with the acts and take the pulse on the artists.
Opening act
The show is opened by a recap of the entire Melodifestivalen 2010 tour. After that there are a pre recorded video with greetings to Dolph Lundgren from one of his friends and colleagues. I don't want to ruin the surprise and will therefore not tell you who it is. The hosts Dolph, Måns and Christine is entering the stage in red and white robes to the song Eye of a tiger. At the end of the opening act a cheer-leading team joins the hosts on stage.
And then, of course the competition begins. I will walk you through the artists performances by there order of apperance.
     
Darin
Today Darin wears all white clothes, even the shoes are white. As in Gothenburg he is alone on stage. The performance on the rehearsal is good and he gets great response from the audience. New for the final is the three pieces of white fabric that is blowing behind Darin on stage, with help of Carola's wind machine.
Pernilla Wahlgren
Pernilla Wahlgren has  got a new dress since we saw her last week in the second chance round. Aside from that the show number seems to be the same as during the last couple of weeks. It's no secret that Pernilla has a lot of routine and experience and you can tell when she is on stage, almost to the point that it seems like this is a job for her and not a competition.
Andreas Johnson
This is a good performance, he really delivers but there are no news from what I can see. It's impossible not to notice that Andreas loves being on stage, he just glows all over the place.
Timoteij
No noticeable changes in this act. These girls are one of the favourites for victory tomorrow but audience in the arena does not seem to be impressed. They get quite good response but not as much as in Gothenburg. At the rehearsal the girls seem much more secure than they did in Gothenburg.
Peter Jöback
It seems that he has added a choir to his performance. They begin to sing when they are still behind the stage but they soon joins him on stage. The choir enhances the performance and brings it to a whole new level. Hold on to your hats folks, this is good, this is really good. And the audience seems to like it as well.

Ola
Ola gets the evenings best response from the audience so far. As in his semi final he is alone on stage. New in his performance is that he leaves the stage for a while and heads out in the audience for a while. The audience loves this and cheers a lot. Olas pyro technics is not new, but the stage in The Ericsson Globe arena really does his pyro technics  justice and brings the most out of it.
Jessica Andersson
Jessica has a new dress in light beige/light pink. Aside from that her performance has no changes from last week in the second chance round. Carola's wind machine is of course there to assist her.
Salem Al Fakir
Like Ola, Salem gets a lot of response from the audience even before he start singing. A major change in Salems act is that he stands up and walks away from the piano and another guy takes his place, rumours says that the guy is Björn Gustavsson, the interval act from Melodifestivalen 2008. One of the evening greatest response from the audience while Salem walks of stage.
Anna Bergendahl
Anna seems to be a little bit nervous, she smiles but the smile does not really reaches her eyes. I wouldn't blame her, The Ericsson Globe is a hugh arena and there will be about three million viewers out there in front of the TV:s tomorrow. And after all, she is just 17 years old. No changes in Anna's act. She gets really great response from the audience in the arena.
Erik Saade
Gets a lot of cheering from the audience as soon as hosts says his name. No changes in Erik's number. He dances well and he sings well, it is a good rehearsal for Erik. Lets just hope that the dancers do not make the same mistakes tomorrow and bump into each-other. Erik gets a really great response from the audience.
Interval act
Once again we'll see Dolph and this time he will reveal the threat. His sketch is leading up to a battle between Sweden and Norway. You will see artists like Bobbysocks, Chips, Kicki Danielsson, Lotta Engberg, Shirley Clamp, Wig Wam and Alexander Rybak. Do not miss this!
After the interval act the jury groups will announce their votes. The result of the telephone votes will be announce later in the show. The voting procedure is slightly different this year than it has been before. The jury groups is divided into 5 Swedish groups and  6 European groups. By adding European groups SVT hopes that the Swedish viewer's will get an indication how  people outside Sweden rates the songs. The European jury groups comes from: Russia, Norway, Ireland, Greece, Serbia and France. Both the Swedish and the European jury groups will leave points in following order: 1, 2, 4, 6, 8, 10 and 12. The result of the telephone votes will be converted into points and will be presented like this: 11, 22, 44, 66, 88, 110, 132.

After the jury groups has announced their points there is another interval act to entertain the audience while the telephone votes are counted. It is the rock band Casablanka that plays Malena Ernman's La Voix, but this time, it's all in english.
At the press conference after the dress rehearsal EuroVisionary were able to get a qucik chat with Anna Bergendahl. Anna is one of the favourites for victory tomorrow.
What do you think about your performance on tonight's dress rehearsal?
It was so much fun, the most fun I've had so far. It was a great audience here tonight. And now when I feel more secure on stage I can actually enjoy the performance much more and I can also listen to the choir . I'm just standing there and listening to their fantastic singing.
What was your first thought when they asked you to participate in Melodifestivalen 2010?
First I got to try to sing the song. At that time it was not certain that we would send it in or not. But as soon that decision was taken I didn't hesitate at all, because I really love the song. I didn't think the song would qualify in to the competition, I really didn't. But I was extremely nervous the day the day they announced the songs for Melodifestivalen 2010. But I didn't think we were going to qualify.
But then you even got the highest amount of votes in your semi final, can you tell me a little bit about your thought's and feelings when they announced the result?
It's unbelievable. At first I was overwhelmed and surprised but then I felt proud that the hard work all of the people involved in this act is paying off and that the viewers likes our song.
Your a favourite among the Swedish viewers, how would your life change if you win Melodifestivalen tomorrow?
I will still be Anna. I will finish high school and then release an album later on. But my life with music would change dramatically if I won. It would be an amazing journey to go to Oslo. I think I would do a really good job in Oslo. I will be so happy if I win tomorrow.
What question would you liked to be asked and what would your answer be?
Anna thinks for a while and then asks: Are you hungry? And then answers: Yes I am!
EuroVisionary would like to thank Anna Bergendahl for taking her time to talk to us.