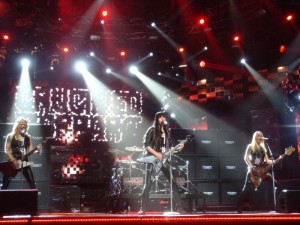 A new day has arrived in Gothenburg and once again the reporters are gathered in the arena to watch the rehearsals. As oppose to yesterday the artists will rehears with their actual clothes today. EuroVisionary was there to cover the rehearsals.
1. Headlines – Alcazar
Andreas: Black clothes and a black jacket with yellow stripes. Lina: Green body and black shorts, black knee-high sparkly boots, Tess: Lilac dress (very short), black belt that matches Andreas jacket and knee-high sparkly boots. The dancers wears black clothes with yellow belt and yellow headphones and pink gloves. All of the Alcazar members are real entertainers, their first run-through runs smoothly and so does the second run-through after a short discussion with the camera crew about the camera shots. Tine Matulessy, the choreographer that does most of the acts in this competition is one of the dancers on stage. She is the one starting of furthest to the left.
2. Tonight – Johannes Bah Kuhnke
Johannes wears a black suit and a red flower in his breast-pocket. You can tell he is not wearing a shirt under the suit but you get glimpses of something white underneath. His band members are all in black as well. Dramatic? Yes it is and as Johannes seems to have a better connection with the camera today he might get through to the viewer's and collect some votes. Unfortunately the false notes are still there. About his sound: the Beatles sound is still there, The Andreas Johson sound are still there, and now try to throw in a little Coldplay sound in this and you'll have the picture.
3. Doctor Doctor – Elin Lanto
Elin wears a black catsuit with see-through materials on the sides and on the arms and a lot of sparkles. Try to get a glimpse of her shoes tomorrow if you can. They have extremely high heels, sparkles and there are some kind of fringles attached on the back. As yesterday Elin's frail voice breaks sometimes but overall, her rehearsal runs smoothly. You can tell that Elin has done this before and that she really enjoys being on stage. If she can keep her voice from breaking tomorrow she will treat the viewer's with a real show tomorrow.
4. Hur kan jag tro på kärlek – Erik Linder
Erik was the only one rehearsing with his actual clothes yesterday. All of his run-through's run smoothly and he has a real good connection with the cameras. He delivers and he does it well. His baby blue eyes and his sweet Swedish song will get a lot of votes tomorrow. This breads Swedish summer and "Allsång på Skansen", something the Swedes really are longing for right now since we have had a unusually long winter this year. Erik sings about hope and warmth and that is something that will appeal to the Swedes.
5. Yeba – Getty Domein
Getty is wearing a black suit and a white shirt and black tie. The dancers are all wearing grey trousers and black see-through tops.This act is pure joy. Getty smiles all the time while he sings. Between the run-throughs he joking around with his dancers and it looks like they have a great lot of fun. Getty is even smiling between the run-throughs when he is preparing. If you'd speak to any of the female reporters in the arena you'd find out that many of them are having a hard time to focus on Getty and not on his dancers. It will be interesting to see on Saturday if the female viewer's can resist Getty's smile and his cute dancers. Looking back, songs that are not sung in Swedish and English usually doesn't qualify to the final.
6. Kom – Timoteij
Just as Erik Linder, these girls will appeal to the frozen Swede's longing for summer. There are white fabrics hanging in the back of the stage and the girls are wearing clothes in very light colours, peach and some kind of brown-lilac. Their dancers are wearing different shades of grey. Before they even start to rehears they have a long discussion with Melofestivalen choreographer Tine Matulessy among other things there seems to be a dancer missing. After yesterdays rehearsals a reporter colleague actually sang "zum zum zum, zum zum zum" as he entered the press room. This song sticks and it's hard not to "zum" along after a while. The girls still looks a little bit insecure on stage which might be their only disadvantage.
7. You're Out Of My Life – Darin
Darin wears a white suit jacket, beige sweater underneath and blue jeans. This is just as dramatic as it was yesterday and Darin sings with a lot of feeling. He looks really sad as he sings, maybe he will do like Sanna Nielsen a couple of years ago and shed a tear or two? This is Darin's first time in Melodifestivalen, but you can tell that he has a lot of experience of tv-shows, he immediately got all of the camera angles and only need a short discussion with choreographer Tine Matulessy before his last run-through. He has a way of really go through the tv-screens and if you add the fact that he has a lot of fans among the Swedish girls and women of all ages you can just imagine how dangerous he will be tomorrow.
8. Heaven Or Hell – Crucified Barbara
Crucified Barbara's clothes are almost all in black leather with elements of leopard skin. They look secure on stage and rehearses without any mistakes. Their biggest disadvantage is that this kind of music is not really what the average Swede listens to, at least not the average viewer of Melodifestivalen. It's nothing wrong with their song, it's actually very good. But the genre might be too narrow to get votes from the viewers.
 You will find pictures in our dress rehearsals in our Image Gallery.