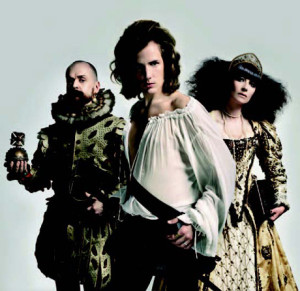 On Saturday it's time for the third semi-final in Sweden. And as usual SVT releases 1 minute of the songs on Friday afternoon. Listen to the songs and make your own opinion, who will win this week?
In the second semi final there were actually no big surprises. Almost all of the favourites went  through to the final or to Second Chance. This week, all of the participators are already known to the audience in one way or another. Does this mean that it is the song that is competing? Or does it matter who sings the song?
1. Velvet – The Queen
Velvet is no stranger to Melodifestivalen or Eurovision Song Contest. In 2006 she participated in Melodifestivalen with the song Mi amore and went through to second chance but didn't make it to the final. Last year she participated in Melodifestivalen with the song Deja vu but didn't make it through to the final. The song became a big hit in Sweden and climbed the Swedish charts. She has also been a part of the Melodifestivalen choir for several years. This year's song, The Queen has a mixture of the 80's and the 90's in it. The chorus sticks right away and this song will be played a lot on the dancefloors across Sweden during the spring.
2. Rigo feat. Topaz Sound and Red Fox – I got U
Rigo is known to the Swedish audience as a group member of Infinite Mass that was founded in the early 90's. He is the one that best known of these five. The song I got U is inspired by Jamaican music. It sounds a little bit like Shaggy, but it's a little bit exaggerated.
3. Molly Sandén – Så vill stjärnorna
Molly is only 16 years old but already well known to the Swedish audience. For obvious reasons she haven't participated in Melodifestivalen before. But she is not without experience as she has participated in Little Melodifestivalen and the Junior Eurovision Song Contest in 2006 (she finished third). She has also been on the Diggiloo tour with Lasse Holm, Linda Bengtzing and Charlotte Perrelli among others. The song Så vill stjärnorna is a dramatic ballad which suits Molly's strong voice. This is a typical song that could be part of a musical. Sadly the 1 minute of the song doesn't seem to do the song justice.
4. E.M.D – Baby Goodbye
This three guys, Danny, Mattias and Erik, have all been contestants in Swedish Idol a couple of years ago. Together they have this group but all aim for solo-careers as well. Danny is the one that has had most hits since Swedish Idol. Erik participated in the Swedish tv-show Körslaget and finished on second place. Goodbye baby is a easygoing pop-song, but you don't really connect with it right away. These boys have trouble finding the notes from time to time and if that would be the case tomorrow, it could cost them a ticket to the final.
5. Mikael Rickfors – Du vinner över mig!
Mikael has done a lot of things over the years, he was a singer in the bands The Hollies and Grymlings. In the late 80's he had a huge hit in Sweden with the song Vingar. Du vinner över mig! sounds a lot like Vingar. The older generation will love this one. This song will please the people that are fans of Rolling Stones, the question is if those people watch Melodifestivalen.
6. Maja Gullstrand – Här för mig själv
It has been a while since we heard anything from Maja. Her breakthrough was in the Swedish reality show Fame Factory a couple of years ago. This is her debut in Melodifestivalen, and her song Här för mig själv is a jazzy song. Unfortunately it's hard to find a core in this song and even harder to find a soul in it.
7. Sofia – Alla
Sofia Berntsson participated in Melodifestivalen two years ago with the song Hypnotized but didn't make it through to the final. Now she's back with a Greek song Alla. You can tell that the composers have had Eurovision Song Contest in mind when they wrote this song. You could almost call this song a melancholy rock-song. If you know Maria Serifovic's song Nisam Andjeo you might get the picture.
8. BWO – You're not alone
BWO are definitely no newcomers in Melodifestivalen. They participated 2005 with the song Gone and finished fifth in their semi-final. In 2006 they were back in Melodifestivalen with Temple of love, made it through to the final and finished on the second place after Carola. In 2008 they participated again with the song Lay your love on me. This time as well as in 2006 they made it to the final but finished third. You're not alone is a ballad. Even though we're not used to hear BWO doing a ballad it has the typical BWO sound.
Links