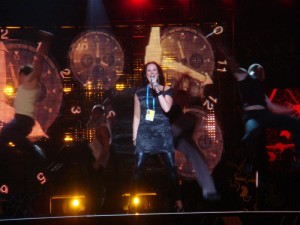 Finally it's time for the first Semi final of Melodifestivalen 2009. Eurovisionary attended the first day of rehearsals to take the pulse on the artists. Eight artists will compete for two direct spots to the final. Among those are well known names such as Shirley Clamp, Emilia and Alcazar. 
The first semi-final will take place in Gothenburg and the Swedish journalists were gathered at the arena Scandinavium to cover the rehearsals. As usual, Henrik von Zweiberg, the studio-man, is responsible for what happens on stage during the rehearsals and that everything will run smoothly. But it is not more serious than he finds time to also joke around with the journalists.
Nina Söderquist –Tick Tock
On stage: Nina is looking happy and relaxed during rehearsals. This song is pure energy from beginning to end. As mentioned yesterday this is a really powerful song and it grows even more when you see it on stage. Nina is accompanied on stage by four male dancers and a choir consisting of two guys. The motive on the back drop is, not unexpectly, clocks! And if there are anyone out there that likes pyrotechnics, you won't be disappointed.
Clothes: A black dress in mixed materials, skin is one of them.
Jonathan Fagerlund – Welcome to my life
On stage: Jonathan is only 18 years old, so it is no surprise that he looks a little bit nervous on stage. This song sounds exactly the same on stage as it does on CD except for one false note or another at his live performance. You have all heard this before, a pop song that sticks like a chewing gum. He is accompanied on stage by three pretty girls playing drums, guitar and base.
Clothes: Jeans and a black t-shirt. The girls clothes are black too.
Shirley Clamp –  Med hjärtat fyllt av ljus
On stage: Shirley has lot of experience with Melodifestivalen as she has participated 3 times as a solo artist. This becomes very obvious at the rehearsal as she is alone on stage through the whole song. Shirley is relaxed and her voice carries the song on stage as well as on the recording we heard yesterday. The back drop has different flower motives, that varies throughout the song.
Clothes: We didn´t get to see Shirley's clothes, but rumors says it's a dress.
Scotts – Jag tror på oss
On stage: Scotts participated in the Swedish tv –show "Dansbandskampen" during the autumn 2008. You can tell they are used to being on stage and their stage-show are self certain as as you would expect. Since Scotts is a band they play their instruments on stage and they are also are accompanied by a choir.
Emilia – You're my world
On stage: This is a jazzy number with lots of energy. Emilia is accompanied on stage by a choir consisting of four girls and three guys. One  of them  playing drums, one playing the piano and one playing contrabass. The back drop is dark with various lighting. Fans of pyrotechnics will be satisfied with this number as well.
Clothes: Emilia is going to wear a Gold dress with lots of glitter.
Alcazar –  Stay the night
On stage: You can always count on Alcazar to put up a good show when they are under pressure. They have a dance number that radiates self esteem and lots of energy. This song depends on a really good stage-show to go through to the final, and  this routine might be exactly what the song needs. The choreography, the back drop and the lighting reinforces the 80's disco feeling. Alcazar is accompanied on stage by a choir.
Clothes: Pink shoes, pink microphones. 80's discosuits in pink and turquoise and black.
Caroline af Ugglas – Snälla, snälla
On stage: Caroline is alone on stage and that probably is the only way to do this act. The performance is very simple. Since the lyric is about a broken heart it's very suitable for Caroline to be alone on stage. The song might even be better live than on recording, but the question is if her performance will go through the tv-screens.
Clothes: White tunika
Marie Serneholt – Disconnect me
On stage: This is a number with a lot of energy. Even though Marie is a debutant in Melodifestivalen she has a lot of routine on stage. It looks like she is having a lot of fun and she seems relaxed and happy. The song is in the same genre as "Tick Tock" and "Stay the night", but the stage shows are very different. Marie is accompanied on stage by four male dancers and  two girls in the choir. The back drop is black and green and seems to be inspired by this years Eurovision Song Contest logo.
Clothes: They only showed us a little bit of fabric from Marie's clothes and from what we could see it is white with fringles.