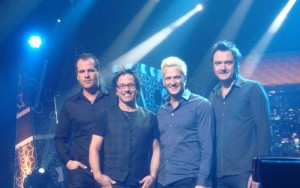 Eight of the eleven songs for the final of Melodifestivalen 2009 have now been chosen. On Saturday, an additional two songs will qualify through the second chance heat and the international jury will reveal which song they choose for the final.
During the last couple of weeks, eight songs have been sent straight to the final of Melodifestivalen. An additional eight songs will have to compete in the Second Chance heat to be able to reach the final. In Second Chance, there will be four separate duels. Scotts will battle Sarah Dawn Finer and Lili & Susie will meet BWO in a duel. The winners of these two duels will then meet each other in a final duel that will decide who will be the first to qualify for the final.
After that, Amy Diamond will battle Starpilots and Rigo & the Topaz Sound feat. Red Fox will battle Caroline af Ugglas. As in the first heat, the winners of these duels will battle each other to decide who the second qualifier is.
The international jury has chosen one song from each semi-final and now have to choose one of them to be the eleventh song in the final. When we know who the two finalists from the second chance heat is the international jury will reveal which song is their choice.
 Scotts
 
 
 
 
 Winner of first duel
 
 
 Sarah Dawn Finer
 
 
 
 
 
Finalist
 
 Lili & Susie
 
 
 
 
 Winner of second duel
 
 
 BWO
 
 
 
 
 
 
 Winner of Second Chance
 Amy Diamond
 
 
 
 
 Winner of third duel
 
 
 Starpilots
 
 
 
 
 
 Finalist
 
Rigo & the Topaz Sound
feat. Red Fox
 
 
 
 
 Winner of fourth duel
 
 
Caroline Af Ugglas