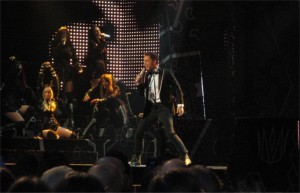 In the second semifinal Måns Zelmerlöw & H.E.A.T. was selected by the swedish audience to go forward to the national final Melodifestivalen.
Amy Diamond and Lili & Susie makes it to the second chance round, the first of those having two chances to qualify for the final as an international jury picks an 11th finalist.
After the first round of voting, the remaining songs were:
Lili & Susie – Show Me Heaven
H.E.A.T. – 1000 Miles
Amy Diamond – It's My Life
Cookies 'N' Beans – What If
Måns Zelemerlöw – Hope & Glory
– H.E.A.T. faced Amy Diamond in the first duel – and prevailed.
– Måns came victorious after beating Lili & Susie in the second duel.
This means that Måns and H.E.A.T. joins Alcazar & Emilia to the final on the 14th of march.
Amy Diamond and Lili & Susie gets another chance to qualify in the second chance round.
The international jurys choice fell on Amy Diamond, which means that she now has an extra chance to qualify to the final as the 11th finalist (a chance that she shares with Caroline af Ugglas after the first semifinal).
The number of votes, 812 874 phone calls, means a new record for any semifinal since the system was introduced in 2002.