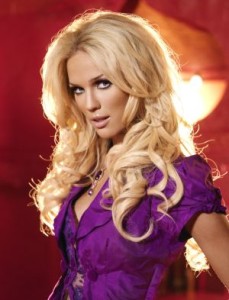 On Wednesday night Swedish journalists had the chance to listen to the eight songs that will battle on Saturday for the 2 places in the final. Of course EuroVisionary was there.
Considering that this is only the first semi-final I think the line up is extraordinary good. I can't remember last time there were this many great songs in the first semi-final. I promise you, there are no given winner, anything can happen! This is my first impression of the songs after hearing them on CD.
1. Tick Tock – Nina Söderquist
Both the beginning and the end of this song is really powerful. I immediately thought of Nightwish when I heard the song. If you mix Nightwish's song "Kinslayer" with the Hanna Pakarinen's song "Leave me alone" from 2007 you might get a feeling of what Tick Tock sounds like.
2. Welcome to my life – Jonathan Fagerlund
This is a typical boyband song. A lot of wow, wow, wow in the chorus. If you remember Jimmy Jansson's songs "Vi kan gunga" in 2005 and "Amanda" in 2007 and mix that with Caracola's song "Smiling in love" from last year you get the picture.
3. Med hjärtat fyllt av ljus – Shirley Clamp
I would like to say that this song sounds a lot like many of the ballads did in the 90's in Eurovision Song Contest. Just to be clear, I mean that in a good way. The music is harmonious and feels a lot more mature then the other songs she has participated with over the years. Shirley has a really powerful voice and this song and her voice makes a perfect match.
4. Jag tror på oss – Scotts
This is a classical Swedish danceband song, but yet up to date in it's own kind of way. Just like Jonathan Fagerlunds song "Welcome to my life" this song is a little bit Jimmy Jansson like. I think "Jag tror på oss" is dull and boring. But I have to admit that the chorus sticks instantly and I had a hard time keeping my feet still.
5. You're my world – Emilia
You're my world is a very well written song and suits Emilias voice very well. It's a ballad with a jazzy kind of feeling to it in the verses. In the chorus it sounds more lika a modern pop song and then when the next verse comes it's back to being jazzy. I would describe this song as "written by the book", it's written as a classical Swedish schlager but without sounding too much like it.
6. Stay the night – Alcazar
Easiest way to describe this is ABBA meets the 80's. It is kind of in the same genre as Nina Söderquist's song "Tick Tock". This is a lot more rock then we are used to hear from Alcazar. This song, as well as Emilia's is a very well written Swedish schlager but still kind of dull. Alcazar will depend on having a terrific show on stage to stand a chance to go through to the final.
7. Snälla, snälla – Caroline af Ugglas
I don't really know how to describe this song other then that it is a ballad. I would say that it resembles a typical Swedish danceband song. Unfortunately Caroline af Ugglas has a voice that's kind of whining. And if "Med hjärtat fyllt av ljus" suits Shirley Clamps voice, Snälla, snälla does not suit Caroline at all.
8. Disconnect me – Marie Serneholt
Disconnect me resembles both "Tick Tock" and "Stay the night" when it comes to genre. I've compared "Tick Tock" to Nightwish and "Stay the night" to ABBA but Disconnect me is more a Britney Spears kind of a song. The build up to the chorus is magnificent and the the chorus sticks right away.