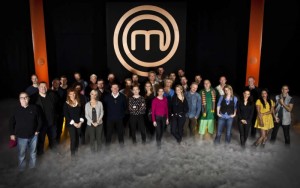 In Masterchef Danmark one Eurovision Song Contest participant and three national finalists all made it through the first week proving that they are to be trusted in a kitchen. So far six has been eliminated from the TV programme where famous people are competing on cooking skills. 
The first week the number of participants would be cut down via a bootcamp. The first day all 34 participants were challenged in the kitchen as they in groups of two had to serve a well made portion of food after own choice for the three professionel cocks. All had been giving 20 ingredients to choose among and was on a tight deadline. 8 made it directly through to the main programme and among those 8 were Danish national finalists Suriya and Annette Heick.
Later the same day the rest of the participants were challenged in who could make the best pancackes. The winner, who ended up being Morten Lindberg aka Master Fatman, went directly to the final and the worst had to leave the programme. The very first to acknowledge that cooking is not his speciality was TV and radio host, Dan Rachlin.
Day two started with the remaining competitors backing a cake in teams of three. Here Jacob Sveistrup's team qualified directly for the final. In the kick-off phase afterwards racing driver Thorkild Thyring was kicked out as he failed to make a decent pizza.
On day three actor Claes Bang had to leave the programme as his breakfast was the worst, according to the judges. And on the fourth and last day in this preliminary round Hollywood Wife Lise Aybike Kir was kicked out as she didn't manage to fry a medium rare steak. 
Suriya participated in this year's Dansk Melodi Grand Prix with the song Forever I B Young, while Annette Heick tried her luck in both 1991 and 2007. Master Fatman also competed for the Danish Eurovision Song Contest ticket twice; in 1995 and 1996. Jacob Sveistrup however did what none of the other three managed as he won the Danish final and represented Denmark in 2005 with the song Talking To You, which finished 9th at the international contest. 
As the 30 participants who made it through to the main round of "Masterchef Danmark" was found they were divided into groups of six. Each group will compete over the spand of a week ending up with just one finalist from each of them. First group, which were competing the past week did not include any of the Dansk Melodi Grand Prix participants, but the ones who survived and therefore are still in the running to become Masterchef are actress Søs Egelind and TV host Joakim Ingversen.