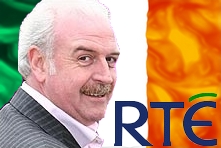 Marty Whelan, like Terry Wogan in Britain, is the voice of Eurovision in Ireland.  Marty is well known in Ireland as a Radio and TV presenter who just keeps on coming back and now he has become a football manager.
As part of RTE's new Sunday night series, 'Celebrity Banisteoir', Marty has taken the reigns of a Gaelic football team from Westmeath.  The show follows a mini chamionship which is made up of eight county teams.  Each of the counties are managed by an Irish celebrity with a link to the respective county.
In last Sunday night's programme Marty won his first match against Bas Ashmawy, a popular RTE travel presenter.  Marty will now face Nell McCafferty in his Semi final match.
Marty was a busy man over the weekend as he also guested on RTE's Saturday night chatshow, 'Tubridy Tonight'.  He was quizzed on his thoughts about the Eurovision Song Contest.  He said that he felt that the Eurovision "is completely mad".  He went on to compare the effect of the break-up of Yugoslavia on the Eurovision Song Contest to regions of Ireland each having an entry.  Talking about Dustin's entry Marty said "If the rest of Europe get the joke then we could win this" and "we're sending a puppet in a trolley" "this is a new way to operate, we've taken this to a new level".
Marty will have his hands full in Belgrade during Eurovision week as he will be commentating for RTE on the two semi finals and the final.