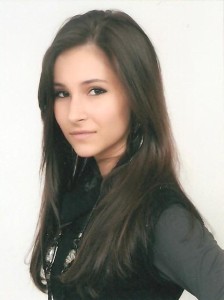 Martina Avramoska participated in the 2010 FYR Macedonian Junior Eurovision selection with the song, Zapajte.  She has now won first prize at the Open Europe festival in Moscow. She performed two songs from former Eurovision singers, Jelena Tomasevic (Serbia 2008) and Elena Risteska (FYR Macedonia 2006).

Martina won the first prize in her category in Moscow performing Morning from Jelena and Autumn In Me from Elena.  There were 2,000 participants in various categories in this international arts festival.
Martina has also had some success at home in FYR Macedonia.  She finished in second place at the Lake Pearls festival singing a duet with Kosta Hadzikojchev.  Two songs were performed again with a Eurovision connection.  Martina & Kosta sang You're The One That I Want from John Travolta & Olivia Newton John (Olivia represented United Kingdom in 1974 with Long Live Love) and The Prayer from Andrea Bocelli & Celine Dion (Celine won the Eurovision Song Contest in 1988 with Ne Partez Pas Sans Moi).
Martina is now concentrating on opera singing as well as her pop singing.
You can see Martina's performance of Zapejte from the 2010 FYR Macedonia Junior national final below.