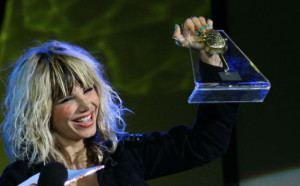 In August, Eurovisionary.com brought you news of Marlain's participation in the Pan Music Festistival, held in Pancevo, Serbia on 29th and 30th August, where she represented Greece. The singer, who represented Cyprus in Jerusalem in the 1999 Eurovision Song Contest, romped to victory.
On the first night of the festival, Marlain performed "Oh God Call" and her performance earned her continous applause from the audience. On the second night, she again wowed those present with a different song. "Rejection" was apparently rejected by the organisers of the Cypriot selection for this years contest. Their loss was Pan Music's gain and Marlain's performance earned her two awards; the best song and the best performance from an international artist.
The festival had extensive television coverage and the videoclip of "Rejection" was featured regularly. Viewing figures for the festival reached 70% at their peak.
You can hear both of Marlain's songs on her Myspace site at the link below.
Eurovisionary would like to thank Nemo Critique for his contribution to this article.
Links