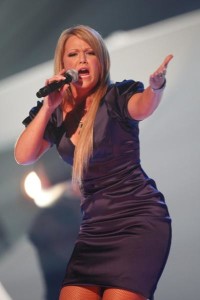 The new album from the Norwegian representative Maria Haukaas Storeng will be released earlier than first announced. The record company will release the single in Denmark and Sweden as well, but the album only in Norway.
The new date is mentioned to be 28th of April and her recoerd company,
Universal Music, has mentioned the goal to be to sell 20,000 copies of the new CD with her entry Hold On Be Strong as album title. Her previous album, Breathing, from 2004 has so far sold 15,000 copies.
From Universal, Strategy Marketing chief, Kjell Petter Askersrud says that there is so far no plans to release the album outside Norway, but if it goes well in Belgrade this might change.
Maria's Manager, Mads Rogde, tells that the single however also will be released in Denmark and Sweden. Despite that these two other Nordic countries are in a different semi-final and therefore can not vote for Norway he is hoping that the releases will lead to the song being played a lot on the radios in the two surrounding countries.