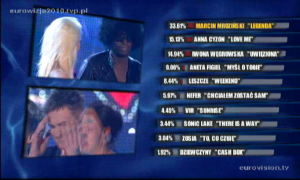 Tonight Poland picked their participant for the 2010 Eurovision Song Contest. Out of ten acts competing Marcin Mrozinski was chosen, by 100% televoting, to represent the country in Oslo in May with the song called Legenda. Edyta Górniak who finished second at the Contest in 1994, was guest star at tonight's final.
Poland opened their national final with a performance from Edyta Górniak, who represented the country at its Eurovision Song Contest debut in 1994 where she managed to come second with the song To Ni Ja. Poland has never been able to live up to this fantastic start and has only once been in top 10, that was in 2003 where Ich Troje finished 7th with Keine Grenzen-Żadnych granic.
The ten participants fighting to win the Finał krajowych eliminacji 2010, the Polish national final were: 
1. Leszcze – Weekend
He is quite casual dressed in white shirt and a half size tie. On stage is also the three bandmembers and 4-5 dancers in the background you only see as siluette. It is a bit of 50/60′ rock and do recieve a big appluse.  
2. Dziewczyny – Cash Box
A group with two femake singers and male musicians. Musicwise we are in a jazzy nightclub, but unfortunately the act appears too much joke on stage.

3. Iwona Wegrowska – Uwieziona
Iwona is dressed in a long silver coloured dress. A male/female couple is dancing in the background and a choir singer is seen near the end of the song. It fits this ballad quite well and the audience quite like it. 
4. Marcin Mrozinski – Legenda
It starts out as a ballad quite close to being opera. Marcin is dressed casually with jeans, shirt and an open jacket. There are two dancers on stage as well as a choir singer. It has some interesting drums in the background and could be a possible winner in Poland. The choir singer is practically singing duet with him at the end of the song.

5. Aneta Figiel – Mysl O Tobie
Aneta is sitting at a piano in the start, but gets up quite quickly into the song. She is dressed in a short pink skirt and a black leather looking top. From time to time she gets back to the piano. It is a nice pop song of the kind that most will immidiately not have anything aginst, but also one of those that can be easy forgotten again.

6. Nefer – Chcialem Zostac Sam!
The leadsinger of this rock band is dressed in black leather jacket, white t-shirt and red trousers. He has five more band members on stage in this rock song. The audience liked them and it could certainly be interesting to see Poland try with something like this.

7. ZoSia – To, Co Czuje (Jak Ptak)
A female singer dressed in a simple black dress and accompaignied by three dancers and two choir singers is what you get with this entry. It is bit pop disco song with old movie symbols shown in the background. It is too easy to forget to be able to bring Poland a good result at the Eurovision Song Contest.
8. Anna Cyzon – Love Me
Anna is dressed in a fur jacket which she is fast in talking off. Underneath she reveals a very short glittering silver dress and a purple scarf. The style is quite inspired by Madonna and No Doubt. She will probably recieve a lot of votes from men due to her strapless short dress and her long blonde hair. On stage she has four male musicians.

9. Sonic Lake – There Is A Way
Here we have a female leadinger that starts out sitting at the floor in a short blue dress. She has a band behind her, but all focus is on her aside from a nice guitar solo in the middle. It is pop with rock hints that is well recieved among the audience.
10. VIR – Sunrise
The male leadsinger is dressed in a red jacket, black t-shirt and dark grey jeans. He is wearing sunglasses like Bono's and it does actually appear like they might just try to be a Polish edition of U2 – though the leadsinger has some similarity to Chandler from the American TV series Friends. For some reason it works though and this stands out as a very possible winner of tonight's Krajowych Eliminacji. 
Before revealing the result Edyta Górniak came back on stage to sing her very popular Eurovision Song Contest entry To Ni Ja together with another song.
No surprise that she recieved the biggest applause of the evening. The
question is now if tonight's winner can live up to her second place
from 1994. 
With 33,61% of the votes Marcin Mrozinski will be representing Poland at the 2010 Eurovision Song Contest in Oslo with the song Legenda. You can watch the performance from tonight in the video below.